Miss Grand International Philippines 2022 Roberta Tamondong will be the last delegate sent to the pageant by Binibining Pilipinas Charities Inc. (BPCI).
In an announcement posted on their social media pages, BPCI confirmed their withdrawal from the said pageant.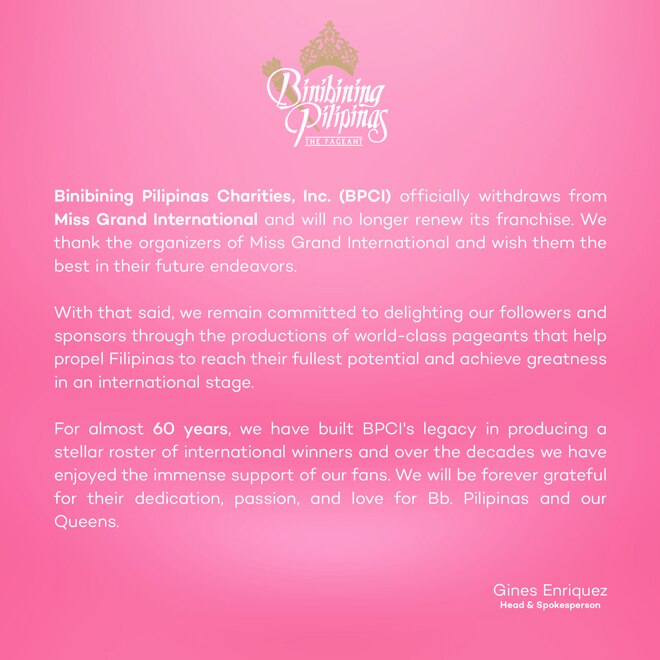 "Binibining Pilipinas Charities Inc. (BPCI) officially withdraws from Miss Grand International and will no longer renew its franchise," said Gines Enriquez, head and spokesperson of BPCI in a statement released last November 7, 2022. "We thank the organizers of Miss Grand International and wish them the best in their future endeavors."
News of the parting of ways of BPCI and Miss Grand International have been making rounds even before BPCI's official announcement, as it was said that franchise owner and president Nawat Itsaragrisil shared this development via a Facebook live video.
READ: Did 'Binibining Pilipinas' lose Miss Grand International franchise?
Although the Philippines hasn't brought home the Miss Grand International title just yet, the country's representatives have placed quite well in the past years.
Ali Forbes was the first representative sent in by BPCI to the Miss Grand International pageant in 2013, where she placed third runner-up. Parul Shah likewise placed third runner-up in 2015, followed by Nicole Cordoves finishing first runner-up in 2016, and Elizabeth Clenci finishing second runner-up in 2017. After a few years of not placing, Samantha Bernardo was named as first runner-up in 2020.
Miss Grand International Philippines 2022 Roberta Tamondong initially finished in the Top 20 in the pageant held in Indonesia, although she was later named as the fifth runner-up after the resignation of Mauritius's Yuvna Rinishta.
READ: Roberta Tamondong after her Miss Grand International stint: 'On to our next adventure'
Despite giving up the Miss Grand International franchise, BPCI assures its followers that it will continue on with their decades-old legacy.
"For almost 60 years, we have built BPCI's legacy in producing a stellar roster of international winners and over the decades we have enjoyed the immense support of our fans. We will forever be grateful for their dedication, passion, and love for Bb. Pilipinas and our Queens."
BPCI currently still holds franchises for Miss International, Miss Intercontinental, and Miss Globe.
"We remain committed to delighting our followers and sponsors through the production of world-class pageants that help propel Filipinas to reach their fullest potential and achieve greatness in an international stage," promised BPCI.
There have been quite a number of changes in the pageant world. It was just last week when it was announced that the Miss Universe Organization has changed hands and has now been acquired by JKN Global Group, a Thai-owned media and content conglomerate.