Extraordinary Attorney Woo star Park Eun-bin is set to hold a fan meeting in different parts of Asia including Manila this year.
The Korean actress's management Namoo Actors posted the poster of her fan meeting on Instagram Stories much to the excitement of her fans.
Eun-bin will hold her fan meeting in Manila on October 23 at the SM Skydome Quezon City. Details of the ticket prices have yet to be revealed.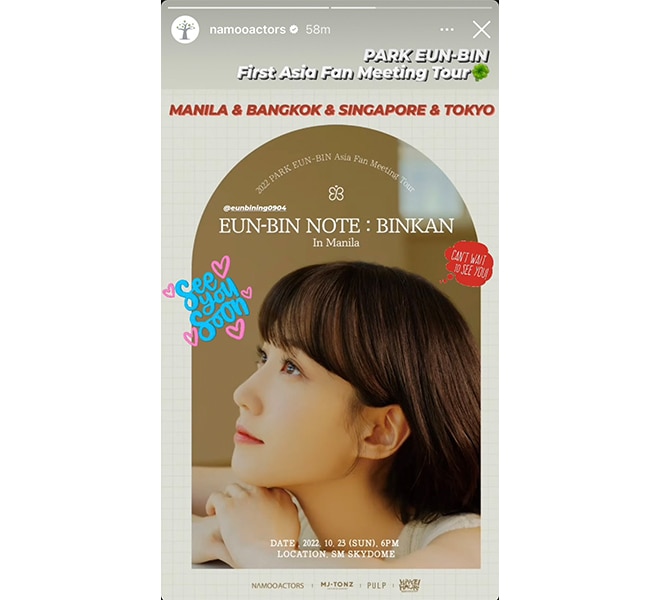 The Korean star will also have fan meetings in Bangkok, Singapore, and Tokyo.
Eun-bin starred in Extraordinary Attorney Woo from June to August 2022.
In the series, the actress plays the role of Woo Young-woo, a rookie lawyer at the Hanbada Law Firm and the first attorney with ASD in Korea.
The show became a global hit on Netflix, taking the top spot on the Global Top 10 charts of the streaming platform for two consecutive weeks for the non-English category.
READ: The Philippines ranks 4th in the countries that tweet the most about K-content in 2022
In an interview with ET News back in August as translated by Soompi, the Korean actress opened up about her journey playing the role.
"It's a project that made me feel unfamiliar with the fear of trying new things. Young Woo is more mature than me. She knows the weight and influence adults have and is someone who wants to use that influence in a good place. The saying 'I will try to overcome unfamiliar and uncomfortable things' speaks to me like a magic spell," she stated.
On what fans can expect from her after Extraordinary Attorney Woo, she shared, "For my next project, it will firstly be after I get some rest and I think I'll need consideration and determination. From my image up until now that I've wrapped up through my affection for Woo Young Woo, in order to prepare to showcase a new and different type of present, I think I will have to evaluate [my next role] as much as I did for this project, if not more."