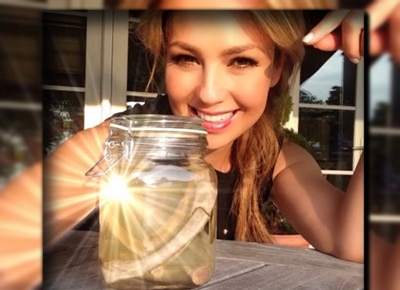 Mexican actress Thalia revealed that the photo of her with her "famous ribs" she posted in her Instagram account on Tuesday was nothing but a prank. After Aquino and Abunda Tonight host Kris Aquino made remarks about Thalia's rumored removed ribs on the primetime talk show, Thalia took to Instagram to set the record straight. "Watching Aquino and Abunda Tonight, a talk show in Philippines, Ms. Aquino is saying I had some of my Famous Ribs removed.To all my Filipino fans I would like to set the record straight about this issue, the Chismis is totoo .To be continued.......#THALIASRIBS #MYTH #MARIMAR #AQUINOANDABUNDA @LOVEKRISAQUINO," Thalia posted in her IG account @thalia on Saturday, August 9.
The original Marimar star made a post again addressing the issue on August 11, "To all my loving Filipino fans, here is the proof ?????? I love ???????? My Famous Ribs, I kept them with me all these years?????? And the Saga continues..... @LOVEKRISAQUINO #AQUINOANDABUNDA #MARIMAR #MYTH #THALIASRIBS #THALIASWAISTLINE #Thaliasnewnovela #Formalin #SOUVENIRS," she captioned the photo of her with what appears to be ribs inside a jar.
Then Thalia made an IG posting on Tuesday, August 12, of the same photo but now with a cross mark. She also posted a photo of cooked ribs which she captioned "These are mine!... And I like them extra spicy just like me." She continued, "To all my Filipino Fans, Tadaaaa!!! Here is My Famous Ribs, would you like to try some?????? Kris Aquino. I am inviting you,Boy Abunda and Anthony Taberna , I'll cook it like Bulalo style next time.???????? Bring Halo-Halo, Sisig and Ensaimada por Favor?????? @LOVEKRISAQUINO @iamtunying28 @BOYABUNDA #THALIASRIBS #THALIASWAISTLINE #MARIMAR #MYTH #MABUHAY #JOKE #KAPAMILYA #GOTCHA #NOPASANADA #IT'SALLGOOD I love you guys," she stated confirming that it was all but a prank.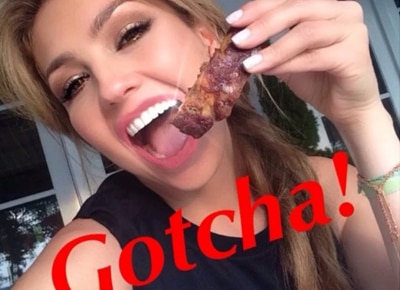 She remarked that the rumors about her removed ribs were all but a myth. "And the #myth will continue... "Myth is not a true story, it is a story that is true,"...."Myths are a special kind of literature not written or created by a single individual, but produced by the imagination and experience of an entire age and culture and can be seen as the distillation of the dreams and experiences of a whole generation" I love you guys?? And I loved every single story! Super fun and creative ;-) ???? Bravo!," she posted.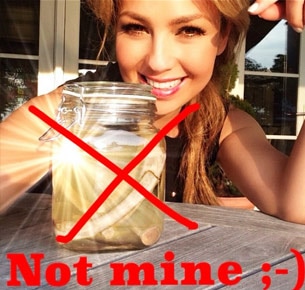 Kris Aquino responded to Thalia's post on Wednesday, August 13. The Queen of All Media posted in her IG account @lovekrisaquino, "Super FUN posts from @thalia . @iamtunying28 she tagged you! If you review the A&A footage what we said was in ADMIRATION because for us Pinoys we equate sexiness w/ @thalia . And now the myth is debunked, her body is all natural & that is even more awe inspiring... Thank you for being a good sport! We Filipinos remain forever fans, it was because of MARIMAR that primetime TV viewing & programming changed for us. Hoping to meet you 1 day @thalia & share a meal of bulalo."