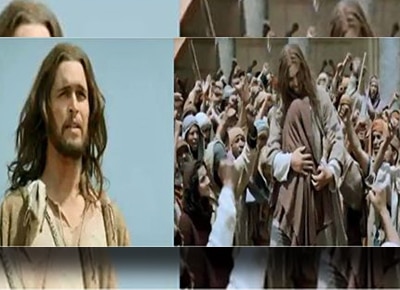 On Holy Week, ABS-CBN features
The Bible: A Special Mini-Series
on Primetime. The series runs 9pmon Maundy thursday, Good Friday and Black Saturday respectively.
According to Wikipedia, The Bible is a television miniseries based on the Bible. It was produced by Roma Downey and Mark Burnett and was broadcast weekly between March 3 and March 31, 2013 on History channel.
In the series, Diogo Morgado, a Portuguese actor played the role of Jesus Christ.
According to IMDb, Diogo Morgado is best known in the United States for his portrayal of "Jesus" in 20th Century Fox's feature film "Son of God" and in History Channel's Emmy nominated miniseries, "The Bible," which was the highest rated cable show of 2013. Diogo also recently appeared in the 3rd season premiere of the hit ABC drama, "Revenge" as "Dr. Jorge Velez." Already a household name in his native Portugal and one of GQ's "Men of the Year," Morgado's career spans in top television, film and stage productions, including a lead role in the #1 rated Portuguese television series and International Emmy winner "Laços de Sangue." Morgado began his career at the age of fifteen when he joined the cast of top rated television series "Terra Mãe" (1998), "Diário de Maria" (1998), followed by "A Lenda da Garça" (2000) and "A Febre do Ouro Negro" (2000). His performance as "Miguel" in the 2000 telefilm "Amo-Te, Teresa" earned Diogo high regard as one of the most promising actors of his generation and the TV movie is still one of the highest rated ever in Portugal. Morgado splits his time between Los Angeles and his native Portugal.
He is currently filming a new TV series "The Messengers" where he plays the devil.