Liza Soberano has finished filming her scenes first Hollywood movie Lisa Frankenstein.
The Filipino-American actress took to social media to extend her gratitude to the director of the film.
"It's our last day. Thank you @zeldawilliams," Liza posted on her Instagram Stories, alongside a photo of her carrying a bouquet of flowers.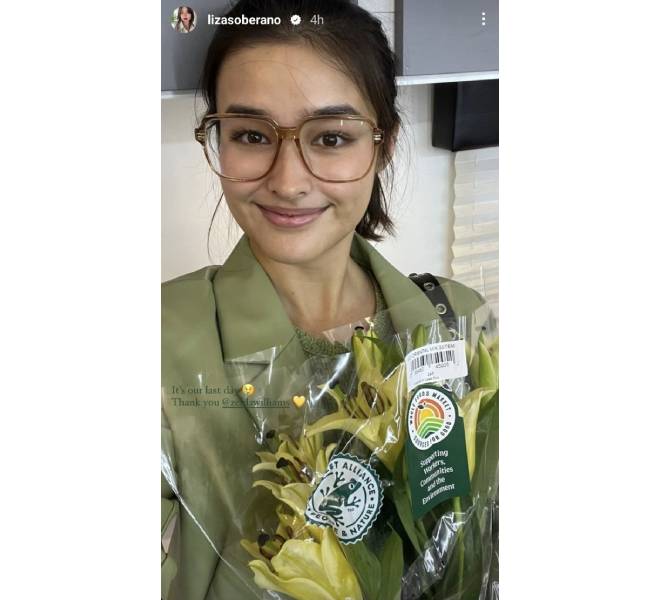 Lisa Frankenstein is Zelda Williams' directorial debut. The screenplay for the movie is written by Academy Award winner Diablo Cody.
It was in August when it was first announced that Liza will be making her Hollywood debut in the horror-comedy film.
The actress plays the role of an '80s high school cheerleader named Taffy in the movie.
"One thing in particular that drew me to the role is I like the fact that it takes place in the 80s which is something that I didn't get to do before. I've never done something from a different time period so I really enjoy all the different looks, the hair, the makeup, the outfits," she told Rappler in an interview last August.
On working with Kathryn Newton and Cole Sprouse in the movie, Liza said that they have been very supportive, especially since it is her first time working for a Hollywood production.
"Cole and Kathryn, at such a young age, they are like veterans in this industry. They have been working since they were very young so they were very professional, they knew exactly what to do, and they all knew that I am new to this American production and they made sure that I got comfortable with them and with working in such a new environment," she stated.
READ: Liza Soberano confirmed to make her Hollywood debut in 'Lisa Frankenstein'
The actress auditioned for the movie while she was in Korea via an audition tape.
"I was told to make an audition tape for this. It was a self-tape that I had to film. I have never created a self-tape before. All my auditions in the past were in person so I didn't know how to do it," she said.
She went on: "I even didn't know what the right format was or like what to even say or do. Luckily my US representatives are very experienced with that of course. They taught me step by step and I filmed it when I was in Korea with my manager Jeff (Oh) and he was the one reading the lines with me," she added.