Ronnie Liang wears many hats. Aside from being known as a singer, actor, model, and commercial pilot, he is also a Philippine army reservist who currently holds the rank of 2nd lieutenant. Earlier this week, the Pampanga-born artist revisited one of his first schools while growing up, as seen in his Instagram post last August 24.
READ: Ronnie Liang isa nang reservist ng AFP
He wrote, "It feels emotional and nostalgic to visit my roots, the school where I studied in elementary, Sta. Teresita Elementary School in Angeles City, Pampanga. As I saw the empty classrooms, I reminisced the good old days, the meaningful memories, and the unforgettable experiences, both painful and pleasant, which shaped me into the person I am today.
"I vividly remember the names of my teachers, classmates, friends, and childhood crushes. Hilariously, I also recall the kid fights I got involved with, the times when the principal summoned my parents, the games we used to play, and the moment I gave bread to a girl I was courting.
"My visit to my former school sent me on a trip down memory lane, thinking about how much I have changed from being a naughty boy to a not-so-naughty guy (lol). Indeed, it is great to look back on your past and smile at how far you have come."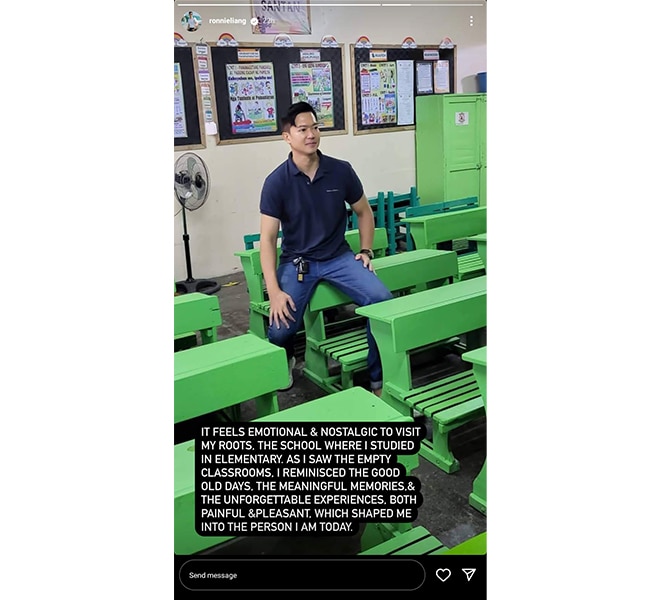 READ: Ronnie Liang continues army reservist duties even during ECQ
After volunteering as an army reservist in 2018 and completing his army training in 2019, Ronnie went on duty helping pack relief goods for distribution and was also seen manning a checkpoint on the MacArthur Highway in Valenzuela City even during the during the height of the implementation of the enhanced community quarantine (ECQ) int he country.