Bianca Rogoff, the daughter of the late Cherie Gil, defended herself from a netizen who called her out on social media for going to a party just weeks after her mother's death from cancer.
"Your mom just passed away and you're in a party now?" said the netizen, as seen in a screenshot shared by Bianca on her Instagram Stories.
In her answer, Bianca, who is currently based in the United States, stressed how her mother would like for her family to continue living "adventurously and joyfully", as life is sacred and "should be valued, honored, and most importantly, lived."
And while she is still very much grieving, Bianca said that it is not her job to show the world that. She also said that, like everyone, she is allowed to grieve in whatever way she feels appropriate or "as publicly or privately" as she wishes.
"I am not here to perform for those who chose to follow me," she pointed out.
In the end, Bianca said that people are free to unfollow her on social media if they don't like what they see. She also promised to "keep enjoying the life my mother gave and granted me."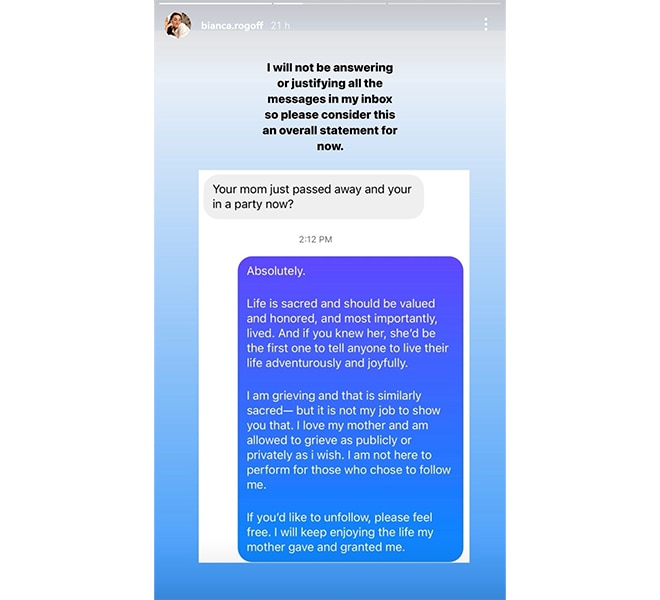 Credit: Fashion Pulis
Bianca is Cherie's daughter with her former husband, violinist Rony Rogoff. They also have a son together named Raphael. Cherie also has a son, Jay, from her previous relationship with actor Leo Martinez.
Known as the industry's "La Primera Contravida", Cherie passed away last August 5 after battling with a rare form of endometrial cancer. She was 59.