When Jurassic World Dominion opens in Philippine theaters on June 8, it brings to a close a world started almost 30 years ago. It's an epic conclusion to "an adventure 65 million years in the making."
The third film starts four years after the destruction of Isla Nublar, the island which once housed the Jurassic World theme park. The world has sort of adjusted to living with dinosaurs, albeit still fraught with danger.
Efforts to rein in these creatures are bogged down by unsavory individuals who want to exploit them for profit. However, a new creature threatens the already precarious ecosystem and may soon plunge the world into chaos.
Chris Pratt and Bryce Dallas Howard return in their roles as Owen Grady and Claire Dearing. Also returning are BD Wong as Dr. Henry Wu, Justice Smith as Franklin Webb, Daniella Pineda as Dr. Zia Rodriguez, and Omar Sy as Barry Sembenè. Joining them are Jurassic Park OGs Sam Neill, Laura Dern, and Jeff Goldblum.
WARNING: Some spoilers ahead
There's a lot to take in with Jurassic World Dominion since it is packed with action scenes as well as expository dialogue. While the transitions are not always seamless, the story pushes through at a steady pace to keep your attention constantly engaged. We've picked out seven reasons you should watch this highly anticipated film.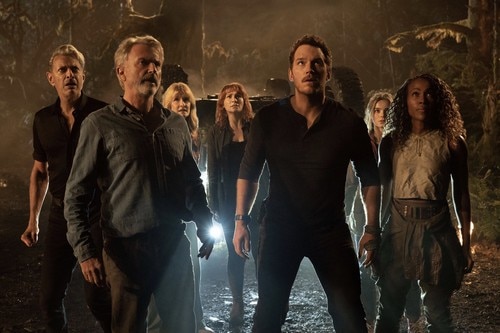 • The OG crew
It's the first time since the first Jurassic Park movie that all three original cast members—Sam Neill, Laura Dern, and Jeff Goldblum—have been reunited onscreen in another thrilling adventure. Each has appeared in a sequel over the years, but never together. Just seeing them together again can give you the childhood throwback feels.
Although they're much older from when we first encounter their characters, they still bring the thrill of adventure with them. The three of them interacting with the characters from Jurassic World nicely ties the two trilogies together.
• Jurassic World crew
Owen Grady (Chris Pratt) and Claire Dearing (Bryce Dallas Howard) are kind of officially together as parents to Maisie Lockwood (Isabella Sermon). Other Jurassic World characters also pop up, however briefly, to show how they've adjusted to life in their "new normal."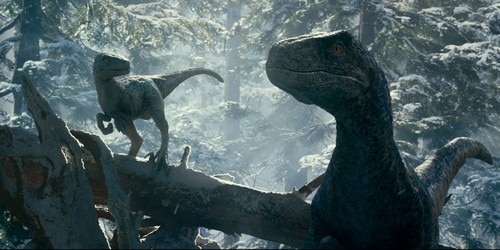 • Dinosaurs and more "More teeth."
New and deadlier dinosaurs are introduced in the movie, adding to the suspense as audiences are still in the dark about what they can do or how dangerous they can be.
Blue the velociraptor remains an audience favorite and it's interesting to see her in a new dynamic as a mother to Beta. Her relationship with Owen might have changed somewhat, but she chose to settle near his home anyway.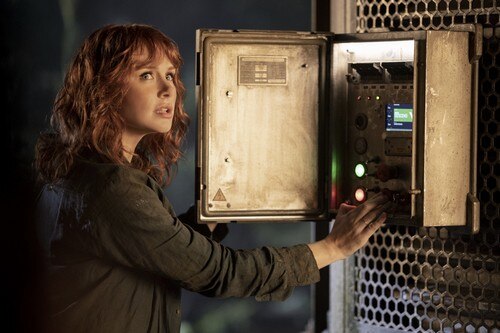 • Throwbacks
In an homage to the original Jurassic Park film, there are a lot of throwback scenes and lines that are scattered throughout the film. Like when Claire and Ellie go to the control room to reboot the system, reminiscent of the time Ellie had to reboot the system in the first movie with velociraptors hot on her trail. Or when the gang are confronted by the Gigantosaurus and Ian Malcolm (Jeff Goldblum) once again tries to distract it with a torch this time as opposed to the flare he used on the T-rex in the first movie.
The Dilophosaurus also makes a comeback. After disposing of Dennis Nedry in Jurassic Park, the frilled dino faces down Dr. Lewis Dodgson (Campbell Scott), the greedy and eccentric CEO of Biosyn, in the final installment. Incidentally, Dodgson was the same man who bribed Nedry to steal dino embryos in the first movie which sent the park into mayhem. Poetic justice of sorts.
The scene when Alan Grant loses his fedora is more reminiscent of Indiana Jones (also from Jurassic World producer Steven Spielberg) but still a nice touch nonetheless.
• Redemption for Dr. Henry Wu
We first met Dr. Henry Wu (played by BD Wong) as a bright-eyed young scientist who was enthusiastic about bringing back dinosaurs to life in Jurassic Park. We next see him in Jurassic World, a bit jaded and more ambitious about creating deadlier dinosaurs.
By the time Jurassic World Dominion rolls around, he's a bit broken, worn down, and desperate to find a solution to the worldwide disaster he has helped create. He's by no means a solid good guy, but his heart's in the right place. With this epic conclusion, he finally gets the chance to right his wrongs.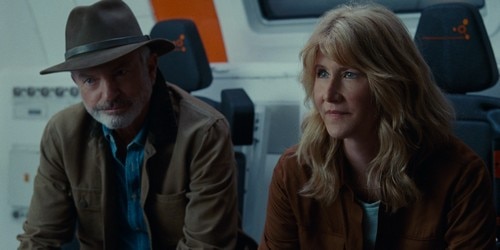 • The Alan-Ellie ship sails again
Alan Grant (Sam Neill) and Ellie Sattler (Laura Dern) started off as a low-key couple in the first Jurassic Park movie and split up somewhere along the way. It took 29 years for them to get together again and finally share an onscreen kiss (which was met with applause by moviegoers). This was a kiss that was a long time coming.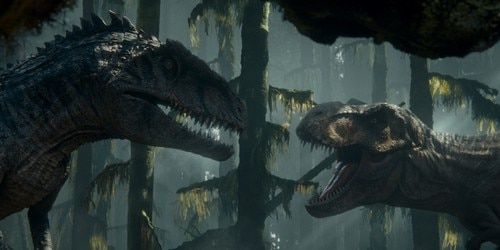 • A grand conclusion to the world created by Michael Crichton
Author Michael Crichton wrote Jurassic Park in 1990 and three years later, its movie adaptation became one of the world's biggest blockbusters with its groundbreaking special effects and engaging storyline. Seeing dinosaurs being "brought to life" was a joy for every kid and kid at heart.
Jurassic Park was such a success that there was a demand for a sequel, something that Crichton had never done before and was reluctant to do. In 1995, The Lost World was published and quickly made it to the New York Times Bestseller List. The movie adaptation came two years later and was also a worldwide success.
Michael Crichton died of cancer on November 4, 2008, but his creation lives on. The Jurassic World trilogy reintroduced the world of dinosaurs to a younger generation with Dominion tying up some loose ends. More than three decades since Crichton wrote Jurassic Park, the world he created has continued to fuel imaginations everywhere.