Barbie Imperial has reacted to a recent interview of her former boyfriend Diego Loyzaga where he claimed that his relationship with the actress and his romance with former Pinoy Big Brother housemate Franki Russell did not overlap, contrary to speculation.
Appearing on Monster RX93.1, Diego denied the circulating rumors that he had been unfaithful to Barbie during their relationship, saying he and the actress even had a conversation about it when they crossed paths at a club a few weeks ago.
"Right now, I'm telling you. Nothing ever happened between me and her (Franki) like that. I can happily sit on this chair and say I never cheated on my partner. She (Barbie) knows that. I saw her two weeks ago at a club and I said, 'B, after everything we went through you really do know that I never cheated on you.' And she's like, 'Diegs, I know, I know.' 'Despite all the stories, are you sure you believe me when I say I never cheated on you? Because I hear stories that you believe that.' And she's like, 'No, Diegs, I know,'" said Diego.
"My friends know that. All my closest friends. My friends in the industry know that I never did that (cheating). But it is what it is, you know."
However, in a series of Instagram Stories on Tuesday, June 7, Barbie reacted to Diego's statement and claimed that she never said any of these things to the actor.
"Nope. Never said this," she said, as she shared a portion of Diego's interview.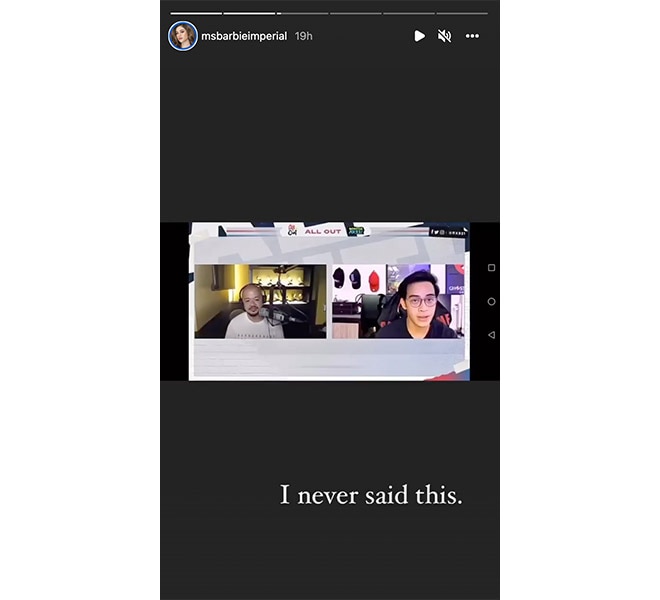 The actress also stressed that she never said anything bad about Diego after their breakup. "But I think telling people I said something I didn't say is foul."
READ: Barbie Imperial clarifies she did not get back together with Diego Loyzaga: 'Friends lang'
Barbie, 23, and Diego, 27, were together for more than a year before they announced in February that they had parted ways.
Months later, in May, rumors that Diego was back on the dating scene began after Franki took to Instagram Stories to greet him on his birthday. He later denied speculations romantically linking them together, stating in a previous interview that, "Franki and I are not a thing", and that he "just wants to be single for now."
READ: Diego Loyzaga, itinangging may namamagitan sa kanila ni Franki Russell
Nonetheless, in his interview on Monster RX93.1, Diego retracted his earlier statement and confessed that he and Franki are in fact seeing each other.
"I am a hypocrite. I said I wanted to focus on myself but I guess these things, you don't expect it. It just really just comes along. Ever since meeting up with her and hanging out with her, it hasn't stopped. We really did click. So, I would definitely say that right now we're dating," he said.
He also explained why he initially denied that there's anything romantic brewing between him and the model.
"[At the time], we have known each other for 10 days, we are not a thing. Who am I to say that? I can't give a label that we are something or kami na. Ang kapal naman ng mukha ko na sabihin ko na kami na. I haven't even asked her. We've just been seeing each other [then]," he said.