After reactivating his Instagram account last June 1 following a social media hiatus, actor Tom Rodriguez revealed that he was given a gag order.
In one of his now deleted posts, the actor answered some of the comments left by his followers. Tom posted a photo of something exploding with a cryptic message as his caption.
"Mutually assured. Things go south, mushroom clouds. No one's left around. Money bought, power talked but no one's listening now. And empires claimed, up in flames, burnt to the ground. History repeats, video reels going round and round," he wrote.
READ: Breaking free? Tom Rodriguez unfollows Carla Abellana on Instagram, shares cryptic post
Although deleted on his account, social media users had screenshots of his posts and the comments he put out.
"Why not tell the whole truth now? Why wait?" one of his followers asked.
"Gag order… ask THEM why," Tom replied.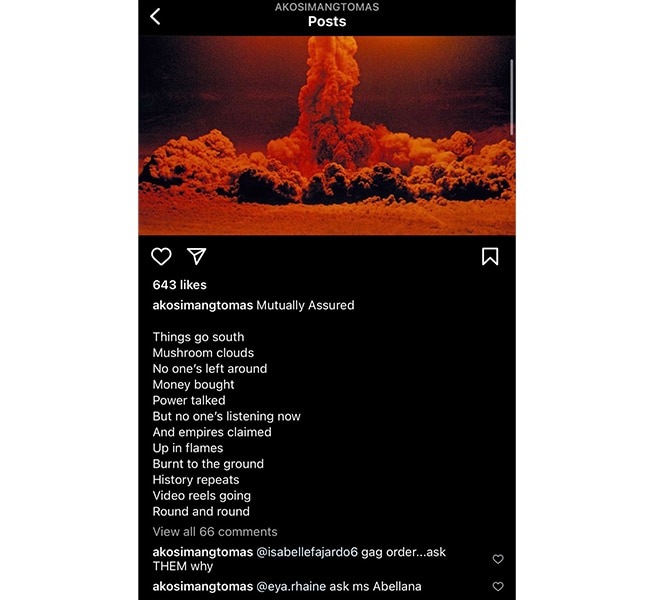 Although no names were mentioned, online users have suspected that Tom was referring to the camp of actress Carla Abellana.
Another follower of the couple commented that the actor should fight for Carla and his marriage because according to the commenter, the actress still loves him. Tom didn't mince his words and replied to the user.
"Not true. And you all know a tiny fraction of an entire story. But one day the whole TRUTH will prevail!" he revealed.
Ever since his return to social media, Tom has been posting cryptic messages and stories that he would later on delete. He had also unfollowed Carla on Instagram upon his return to the social media world.
Showbiz reporter Cristy Fermin revealed in one of her YouTube vlogs last May 26 that Carla was already preparing the documents for the annulment of her and Tom's marriage.