After catching up on lost time in Istanbul, the daughters of Ruffa Gutierrez again bade goodbye to their Turkish father Yilmaz Bektas as they returned home to the Philippines.
The emotional moment was shared by their half-sister Ilknaz Bektas on Instagram, showing Lorin and Venice in an embrace with their father at the Istanbul airport, minutes before they boarded a plane back home.
Sharing the post on Instagram Stories, Lorin wrote, along with a heart emoji: "Until we are all together again."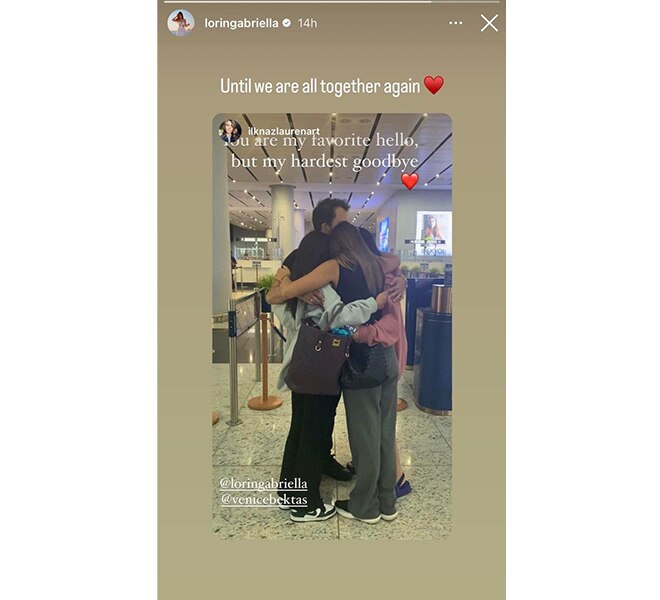 Lorin, 18, and Venice, 17, reunited with their father in Turkey earlier this month, more than 15 years since they last saw each other following Ruffa's separation from Yilmaz in 2007.
READ: Ruffa Gutierrez sends daughters off to Istanbul to meet their father
Meanwhile, Ruffa said she cannot wait to hear more about her daughters' trip to Istanbul when Lorin and Venice get home.
"12 days with their father after 15 years of not seeing each other was certainly a trip Lorin and Venice will never forget for the rest of their lives. I can't wait to hear all about it when they get home in time for my birthday," she said in her Instagram post.
"To my friends and followers, thank you for your messages. I may not be able to answer to all but know that I am grateful for each and every one of you," she continued.
"To Yilmaz, Annem, Babam, Kesra, Nazo, Handan and to the Bektas family… her şey için çok teşekkür ederim (thank you for everything). Till next time."
READ: Mga anak ni Ruffa Gutierrez, muling nakasama ang kanilang ama matapos ang 15 taon
The actress also had a message for anyone else going through the same thing as her family.
"To families going through similar experiences, thank you for sharing your heartwarming stories with me. Reach out to your estranged loved one today and remember that as long as you're alive, there's always hope. May your past no longer block your view of the present," she said.