More than a year after they announced their engagement, celebrity couple Vin Abrenica and Sophie Albert have started preparing for their big day.
On Instagram Stories, Sophie shared a picture of herself and Vin with their wedding coordinators, including Charisse Tinio, the owner of the celebrity-preferred photo and video service Nice Print Photography, and event stylist Gideon Hermosa.
"Wedding things," she captioned her post, followed by a ring emoji.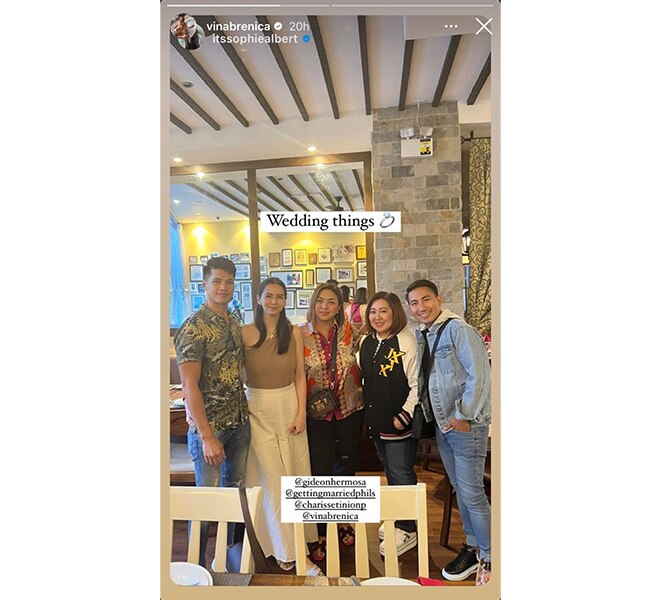 It's unclear when exactly Vin and Sophie are planning to tie the knot.
The couple, who have been dating since 2013, announced their engagement in February 2021. Based on their previous posts, the surprise proposal happened when they shot Sophie's maternity shoot in Batangas on December 12, 2020.
"You'll never know when you are truly ready until you realize who you're living and breathing for. It's you @itssophiealbert. We've grown up together and I look forward to growing old together. Good luck, you are stuck with me for life," said Vin in his post announcing the engagement.
For her part, Sophie wrote: "We've been savoring our precious moments and we are ready to share our joy and excitement! WE ARE ENGAGED! Thank you @vinabrenica for everything. Thank you for being you and for making everything special. I am blessed to have you as my best friend for life."
READ: Vin Abrenica and Sophie Albert are now engaged
Vin and Sophie, both 31, first met in 2012 on the TV5 talent search Artista Academy. Last year, the couple welcomed their first child together, Avianna Celeste.