Fans of P-pop are in for a treat as the country's well-loved idol groups join together for the first Pinoy Pop Convention or PPOPCON.

Described to be the "first and largest event that celebrates Pinoy Pop Music and is eyed to be a great venue to build and strengthen the growing P-Pop community," SB19, BGYO, MNL48, 4th Impact, BINI, Alamat, 1st.One, and Press Hit Play, among other groups, are expected to grace the two-day event.
Scheduled to happen on April 9 and 10 at the neighboring Araneta Coliseum and New Frontier Theater, the PPOPCON will set up merchandise booths, and activities for fans such as games and live performances. SB19, 4th Impact, MNL48, and BGYO, among others, will also lead the concert at the Big Dome on April 10, to be held from 3 pm to 7 pm.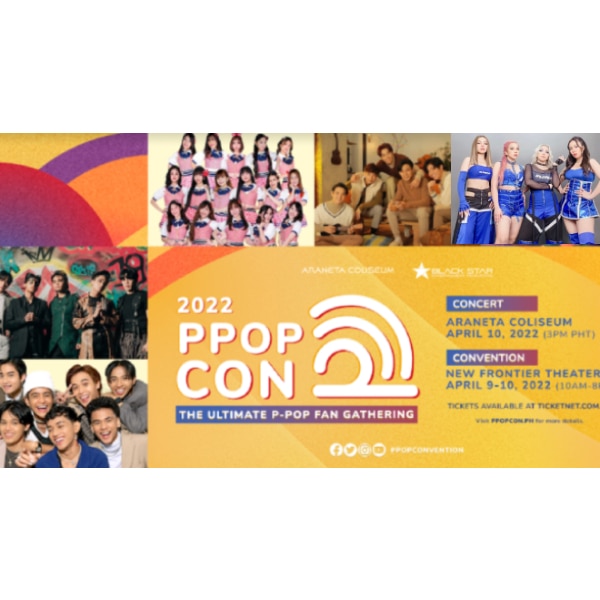 Photo credit: PPOPCON 2022
According to a press release sent to PUSH, "The program is composed of a convention which will happen at the New Frontier Theater and will be capped off with a concert at the Araneta Coliseum, which fans can also attend live, making it one of the biggest entertainment events to take place at the Big Dome since 2020. The hybrid concert will happen on-ground, with fans to be allowed inside the venue, and will be livestreamed online simultaneously.

"PPOPCON marks the return of live entertainment and a return of audiences to this type of event since the start of the pandemic," Irene Jose, COO of Uniprom, the entertainment unit of the Araneta Group said.
Nonetheless, safety protocols are in place for those attending the event.
"The health and safety of the fans are always a top priority for us, that's why with the return of live entertainment, we've intensified health and safety standards that we have implemented here in Araneta City since the start of the pandemic. We are committed to a safe, healthy, and fun experience for everyone who'll attend PPOPCON," Irene further said.
Tickets are available via Ticketnet.com.ph.
The P-pop community continues to gain popularity and recognition through the years. SB19 made history as the first Filipinos to be nominated at the Billboard Music Awards, alongside international superstars BTS, Ariana Grande, BLACKPINK and Seventeen. SB19 is behind the chart-topping songs "Bazinga", "What?", "MAPA", "Go Up", and "Alab."
READ: SB19 nominated for Billboard Music Awards

Likewise, BGYO, who won PUSH Music Personality of 2021, and eight-member girl group BINI made history as the first Filipino artists to land an NFT (Non-fungible token) cover for the Dubai-based magazine Xpedition.

READ: BGYO, BINI make history as first Pinoy celebrities to land an NFT cover
BGYO is behind the hits "The Light", "The Baddest", and "He's Into Her", while BINI debuted with the original song "Born To Win", and their own rendition of the "Da Coconut Nut."