Beauty queen-host Maggie Wilson said she was denied access to photos from the birthday party of her son Connor, which both she and her former husband Victor Consunji attended last week.
On Instagram Stories, Maggie posted a screenshot of her conversation with a photography studio which was apparently commissioned to take pictures at her son's birthday party.
In it, Maggie asked the studio if she could have copies of the pictures, and was told by the latter that it "will send the full set once ready." However, the photographer later backtracked, and said they were instructed by an unnamed person not to upload and send any photos to Maggie.
"Kindly ask the copy na lang daw po kay [redacted]," added the studio.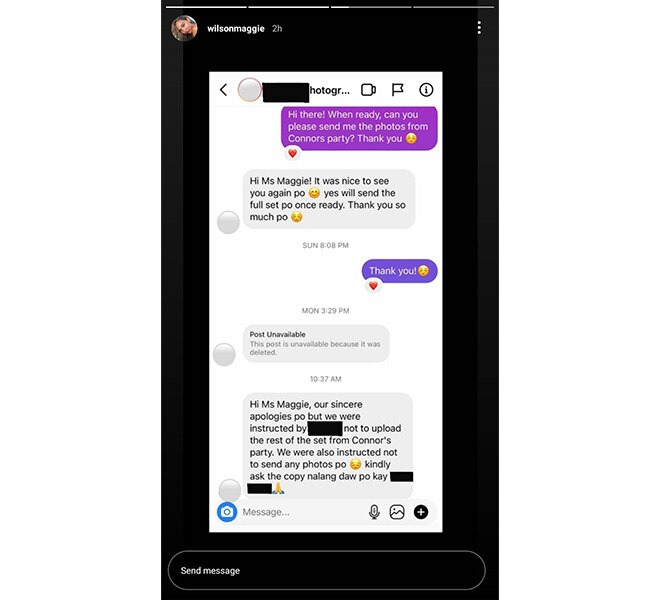 Images courtesy: @wilsonmaggie Instagram | Photo from Fashion Pulis
Expressing her dismay, Maggie said: "You might think everything is nice and peachy on the outside but this is what I have to deal with and have been dealing with on the inside for far too long now. Control."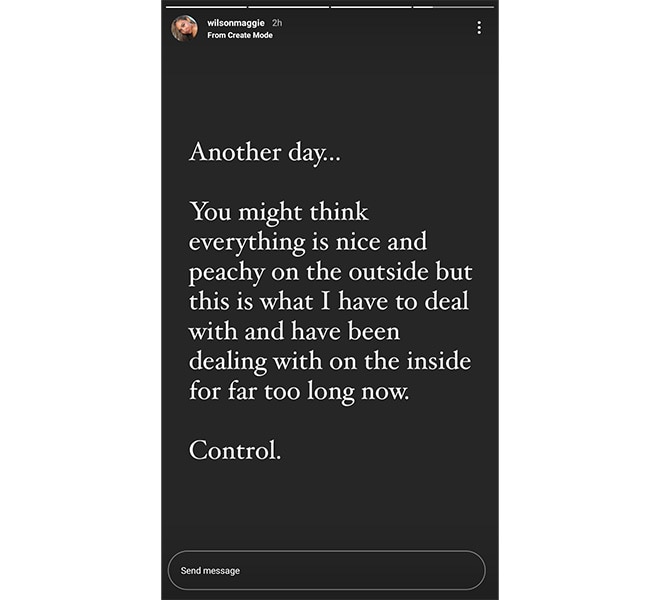 Images courtesy: @wilsonmaggie Instagram | Photo from Fashion Pulis
Though it wasn't clear whether it was Victor who was withholding the photos, a source who spoke to gossip website Fashion Pulis claimed that the photographer, who was allegedly hired by Victor, "was instructed to hold the photos because some of the children at the party are from private families and their approval was needed first before posting."
It added that Maggie had a DSLR camera with her during the party and that "the assumption was she intended to take personal shots of Connor."
Maggie Wilson and Vic Consunji meet up at son's birthday party
Furthermore, the insider also pointed out that it was Victor who organized their son's birthday party, adding that he "invited Maggie, her mom, and guests she wanted to be at the party ... out of respect to celebrate the 10th birthday of their son."
This isn't the first time that Maggie has aired her grievances over allegedly being denied access to her son. Back in December, the beauty queen-host also claimed that she was "refused time" with Connor over Christmas Eve and Christmas Day "despite an agreement being made prior."
It was back in September 2021 when Maggie and Victor announced that they had separated after more than a decade of marriage.
The former couple were married in December 2010 twice — first in church, then at the beach in Albay. Two years later, they welcomed Connor, their only child.
In their joint statement released on Instagram, Maggie and Vic said they have remained good partners and friends for their son Connor.
"We want you to hear it from us directly. Vic and I have made the difficult decision a while back to separate. It's been challenging to say the least, but we want you to know that there is no animosity between us. We will always love and support each other no matter what. We will always be family as we share our beautiful son, Connor, together.
"We have remained really good friends and partners and will continue to do so. Both of us want nothing more than for each other to be happy. We'd like to ask for your kindness, understanding, love and support as we navigate this new chapter in our lives," they added.
Businessman denies affair with Maggie Wilson
Maggie is a former actress, host, and beauty queen. She was crowned Binibining Pilipinas World in 2007, at the age of 17. She recently co-hosted Metro Channel's travel show Beached alongside Marc Nelson.
Victor, meanwhile, runs his own construction company, Victor Consunji Incorporated. He is the grandson of DMCI founder and former DPWH secretary David Mendoza Consunji.