Filipino-American content creator Bretman Rock met BLACKPINK's Jennie Kim in Hawaii.
Both stars graced the fashion show of Jacquemus in Hawaii on Thursday, March 10.
On his Instagram Stories, Bretman shared his selfie with the K-Pop star. "Cosmo and Wanda ain't Slick," Bretman wrote.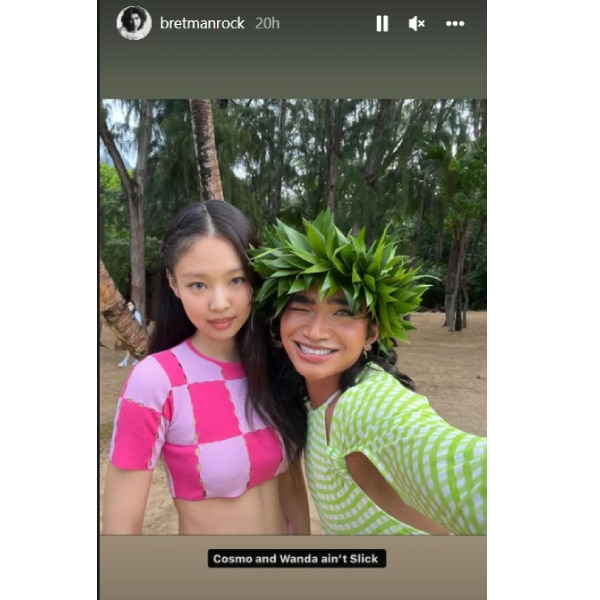 Fans online went into a frenzy after spotting the two stars in one frame together.
"Jennie and Bretman in one frame they're gonna be BFFs I just know it," one netizen wrote.
"Never knew i'll need jennie and bretman interaction but damn this is iconic," another fan wrote.
Bretman remarked that the Jacquemus show is one of his favorite shows that he has attended.
"@jacquemus definitely Le Splashed 💦🌸 One of my favorite shows I've been to just good vibes and good people 🌴 and amazing clothes duhh 💅🏽 also the pic of me throwing up 76 south on Vogue will forever be my biggest flex," he posted on his Instagram page.
Meanwhile, Jennie shared her snapshots on the Hawiian beach on the day of the fashion show. "Pink Hawaiian girl," she wrote.
Bretman has always been vocal about being a big fan of BLACKPINK.
In 2019, the YouTube star shared his excitement on social media when BLACKPINK visited California to perform at Coachella.
"Y'all BLACKPINK is in my area. I just wanna say hi!" he posted on his Instagram Stories in that year.
Bretman watched their performance at Coachella.
Bretman is currently based in Honolulu, Hawaii. He rose to popularity as a beauty influencer on YouTube and Vine.
He starred in his own reality television show in 2021 titled MTV's Following: Bretman Rock. He also posed for the cover of Playboy in the same year. He is the first openly gay man who posed on the cover of the magazine.
Prior to attending the Jacquemus fashion show in Hawaii, Jennie was in Paris for fashion week. She attended Chanel's show. She is a house ambassador of Chanel.
In 2020, Jennie's K-Pop group BLACKPINK released their first studio album titled The Album. It landed on the number 2 spot on Billboard 200.
How Ivana Alawi reacted to Bretman Rock's fanboy moment over her
In October 2020, a documentary about their journey as a K-Pop group was released on Netflix.
They staged a livestream concert with YouTube Music in January 2021.