Content warning: discussions on death and mental health
Pia Wurtzbach and Catriona Gray were among those who expressed their grief over the death of Miss USA 2019 Cheslie Kryst. She was just 30.
On Instagram, both Miss Universe titlists remembered Cheslie as an "angel."
"So sorry Cheslie. Thank you for the kindness you showed me and everyone around you. You're so loved. Rest peacefully," wrote Pia.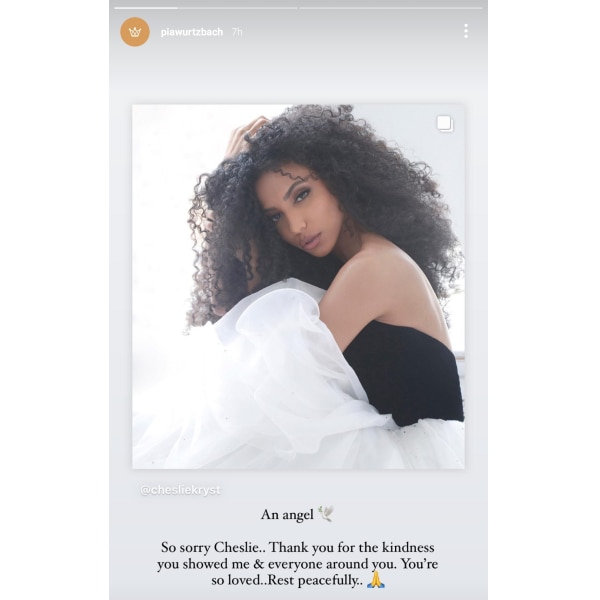 "Ches... I can't believe the news. Rest in peace, angel. The world will miss your light," said Catriona.
They also urged those suffering from mental health problems to seek help.
Cheslie died on Sunday, January 30, in Manhattan according to the New York City Police Department. She was reportedly alone when the incident happened.
READ: Miss USA 2019 Cheslie Kryst, pumanaw na
"Let's reach out to friends and loved ones," said Catriona. "These continue to be isolating times, mental health is so important, let's not downplay its importance in the lives of every individual."
Aside from Pia and Catriona, the Miss Universe organization also released a statement addressing Cheslie's death.
Cheslie represented North Carolina as a candidate for the Miss USA pageant. Her victory was historical, marking the first time that the winners for three major US pageants—Miss Teen USA Kayleigh Garris, Miss America Nia Franklin, and Cheslie—were black. As Miss USA, Cheslie represented the United States at the Miss Universe pageant in 2019 and finished in the top ten.
"The Miss Universe and Miss USA Organizations are devastated to learn about the loss of Miss USA 2019 Cheslie Kryst. She was one of the brightest, warmest, and most kind people we have ever had the privilege of knowing, and she lit up every room she entered. Our entire community mourns her loss, and our thoughts and prayers are with her family during this difficult time," said the organization.
"If you are struggling with suicidal thoughts or are experiencing a mental health crisis, please seek help by calling the National Suicide Prevention hotline at 1 800-273-8255 or go to SuicidePreventionLifeline.org."
Aside from being a beauty queen, Cheslie was also a licensed attorney and a television correspondent. From 2019 until her death, she worked as a correspondent for the entertainment news site ExtraTV and was nominated twice at the Daytime Emmy Awards for her work.
If you or a loved one is in need of help, the National Center for Mental Health (NCMH) has trained respondents to properly deal with those in need. Contact the hotline at 0917-899-USAP (8727) / 0917-989-8727. You can also contact Hopeline Philippines at (02) 804-HOPE (4673), 0917 558 HOPE (4673), 2919 (Toll free for Globe, TM).