The camp of actor Enchong Dee released a statement on Tuesday, February 1, about his voluntary submission to authorities.
Enchong reportedly went to the National Bureau of Investigation in the National Capital Region (NCR) with his lawyers and posted bail amounting to P48,000 for his provisional liberty.
This happened after a warrant of arrest was served against him.
It can be recalled that a lawmaker filed a cyber libel case against the actor who criticized her for allegedly using public funds to mount her lavish wedding.
In a statement, Enchong's camp addressed reports about his alleged attempts to evade arrest which have been making rounds online over the past couple of weeks.
Castillo, Laman, Tan, Pantaleon, and San Jose Law Offices said Enchong has not made any efforts to evade arrest.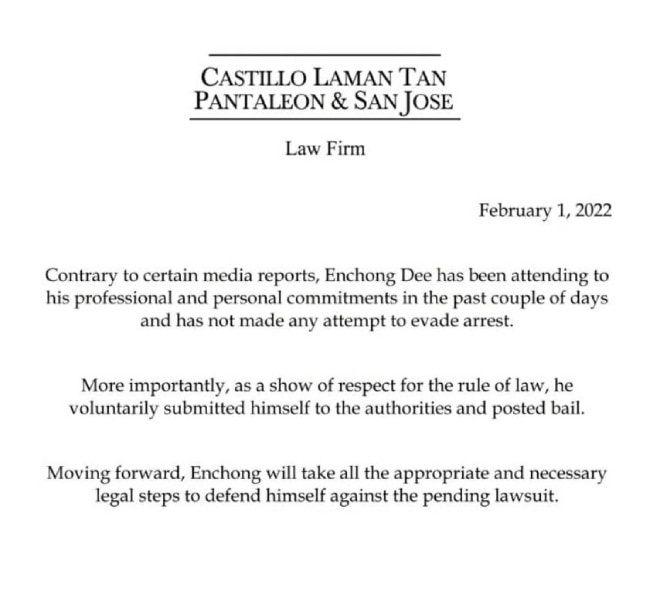 "Contrary to certain media reports, Enchong Dee has been attending to his professional and personal commitments in the past couple of days and has not made any attempt to evade arrest," the statement read.
READ: Enchong Dee, loyal sa Kapamilya network
"More importantly, as a show of respect for the rule of law, he voluntarily submitted himself to the authorities and posted bail," the statement added.
The actor will also take necessary actions to defend himself, his camp said.
"Moving forward, Enchong will take all the appropriate and necessary legal steps to defend himself against the pending lawsuit."