Soon-to-be-mom and actress Jessy Mendiola posted a cryptic message on her Instagram stories last November 10. The actress gave advice for her fellow wives in her post which left netizens puzzled.
She didn't specify any name in her post but she made sure to get her message across.
READ: Jessy Mendiola, Luis Manzano hold baby shower
"When someone says something bad about you, always remember that it is the only way his/her insignificant self can feel better than you. The most important thing is, you know who you are and you don't step on other people's toes just to get where you are," she wrote.
The actress hinted that there might have been someone close to them who has been talking behind their back. In her post, she wrote about how a person's character is revealed based on how bad they talk about others.
The 29-year-old celebrity vlogger implied in her story that she told her husband, Luis Manzano, to cut some people off from his life. Jessy added that it was only necessary to remove certain people to have the peace and security her family needs.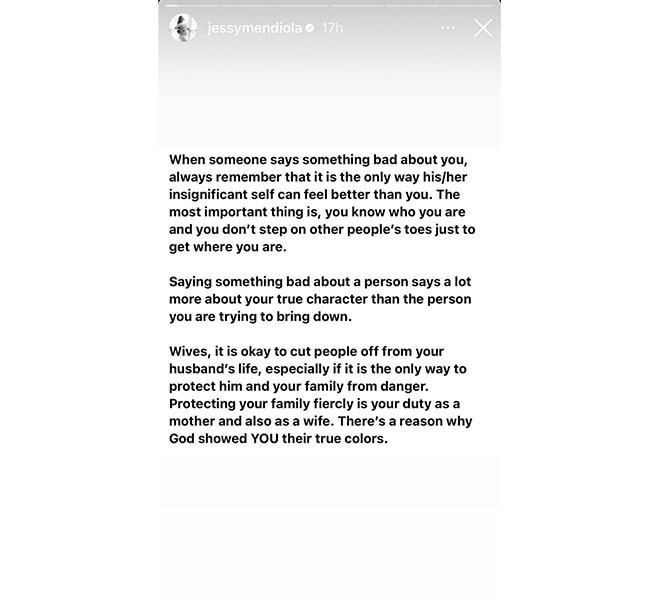 "Wives, it is okay to cut people off from your husband's life, especially if it is the only way to protect him and your family from danger. Protecting your family fiercely is your duty as a mother and also as a wife. There's a reason why God showed YOU their true colors," she added.
READ: Jessy Mendiola gives glimpse of maternity shoot
Screenshots of her Instagram story have been making rounds on social media with netizens trying to guess who Jessy was referring to.
Meanwhile, Jessy is currently in her third trimester of pregnancy. She is set to give birth any time to her first child, whom the couple calls baby Peanut.