Nico Bolzico penned a hilarious post for his wife Solenn Heussaff after he met the latter's crush at an event in the Philippines recently.
In his Instagram Stories, Nico shared his photo with French actor Lucas Bravo.
"Met my wife's crush last night! He is way better looking than me! @lucasnbravo stay away from my wife!" he quipped.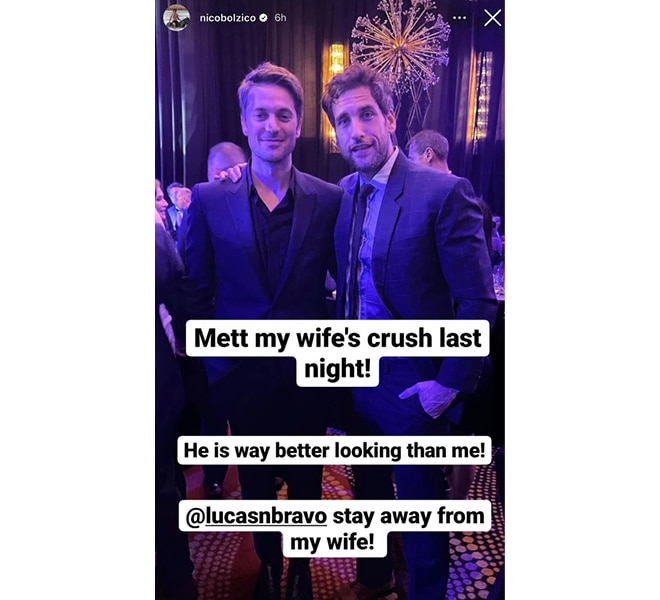 Lucas was in Manila for the 75th anniversary of the Philippines and France's diplomatic relations. He graced the opening of the 25th French Film Festival in Makati last weekend alongside award-winning French actress Isabelle Huppert.
Lucas and Isabelle are both part of the movie Mrs. Harris Goes to Paris, which was screened at the film festival. In the film, Lucas plays the role of André Fauvel while Isabelle portrays the lead character named Ada Harris.
"I think celebrating French cinema is celebrating Isabelle. She's in the most of the best movies we had," Lucas said in an interview with the press at the festival in Makati last weekend.
Lucas rose to global popularity after starring in the hit Netflix show Emily in Paris. The actor plays the role of Gabriel, a chef in Paris.
He also recently starred in the film Ticket to Paradise headlined by George Clooney and Julia Roberts.
In an interview with Collider recently, Lucas shared his experience working with George and Julia in the film.
"I learned that you can be an icon and that you can be the biggest actors on the planet and still be the kindest person, and that for me, changes everything, gives me a lot of fuel. There's a lot of ego in this industry and to see that you can make it this far and still keep your inner child intact and be a respectful, considerate person is for me, everything," he said.
Lucas will return as Gabriel in the season 3 of Emily in Paris, which is set to be released on December 21 on Netflix.
In October, Netflix revealed the synopsis of the new season.
READ: TRENDING: Pinay visits filming locations of Netflix hit 'Emily in Paris'
"One year after moving from Chicago to Paris for her dream job, Emily finds herself at a crucial crossroads in every aspect of her life," Netflix said in its media release.
"Faced with two very different paths, Emily will have to decide exactly where her loyalties lie — at work and in her romantic life — and what those decisions mean for her future in France, all while continuing to immerse herself in the adventures and surprising twists and turns that life in Paris provides," the streaming giant added.