Former beauty queen and actress Megan Young went into fangirl mode as she watched the concert of K-pop boy group SEVENTEEN in Manila last October 8 and 9. The actress shared how lucky she was to experience both days of the concert.
On her Instagram, Megan showed glimpses of her concert experience on both days.
READ: K-pop group SEVENTEEN happy to see their Pinoy fans again: 'We'll definitely be back!'
During the first day of the concert, the Miss World 2013 was seated at the lower box section with her fellow Filipino CARATs. She shared how happy she was with her view for the first day.
"I purchased this seat by chance from one of my co-army who thankfully had another ticket! I had no idea what my view would be. I was so happy with my seat! I got a really nice view of the stage and got to sit comfortably in between sets," she wrote.
On the second day of the concert, she was accompanied by her husband, Mikael Daez. They were seated at the Suites of MOA Arena which was higher than her previous seat. Despite that, Megan shared how different it was enjoying the concert with her "ultimate bias."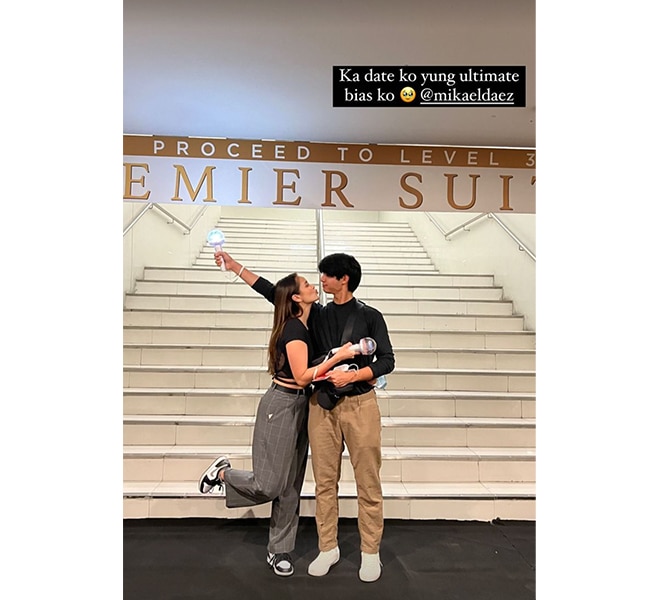 In her Instagram stories, Megan filmed the actor dancing to the hit song of SEVENTEEN. She shared that it was Mikael holding her lightstick 70% of the time.
Meanwhile, Netizens on Twitter applauded the actress for lining up outside the venue and not using her privilege to enter first.
READ: Megan Young looks back on her Miss World journey
The former beauty queen was grateful for the friendship she has made within the K-pop community. Megan has been sharing that she is a fan of K-pop groups such as BTS and SEVENTEEN.
"Parang work out na rin sa sobrang pawis hahahaha 💙 happy to meet a lot of co-carats today 💎 I hope you all enjoyed!!! Thank you to those that gave me banners, accessories, PHOTOCARDS😱🤯 and pictures of the sebongs 😭 til the next con!!! Mag papa-massage muna ako dahil ang sakit ng katawan ko kaka aju nice," she wrote.