With tickets to their two-day concert sold out just hours after it was first released last July, South Korean boy group SEVENTEEN's fandom called the Carats came out in full force to support their K-pop idols last October 8 and 9 at the Mall of Asia Arena in Pasay city during their Be The Sun concert.
Having first performed in Manila in 2017 during their first world tour and then returned in February 2020, the group admitted they were excited to see their Pinoy fans again last weekend.
Seventeen leader S. Coups admitted to the crowd: "I had so much fun for two days. I actually felt sorry because I couldn't come last time. Did you guys have fun for two days? I had so much fun as well. I'll come back soon. Mahal ko kayo."
Another member, Seungkwan, also shared how he felt being reunited with the Manila Carats.
"It was those two days that we can feel the love from you guys. Because we cannot see each other often, so these kinds of days are really important to me as well. I hope you guys bring all the good memories that you had today. So please stay healthy until we meet again okay? Mahal ko kayo," he said.
During the concert, the 13-member group performed songs from their latest album Face The Sun which included "Hot," and "Darl+ing," as well as their other hit songs like "World," "Crush," and "2 Minus 1."
Before singing a song, one of the Chinese members of the group, Jun talked about being appreciated by Pinoys.
"I'm so happy that I am loved here in Manila. I love your voices and all of your voices are pretty. So I want to come back as soon as possible. So please take care as soon as we come back okay?" he said.
READ: K-Pop group SEVENTEEN arrives in Manila
English-speaking member Joshua also thanked the audience for the high energy throughout their performance.
"Guys we had so much fun with you. From the beginning, you guys haven't stopped cheering us on and having fun with us. Just like the overall connection and chemistry that we had today," he said.
"We thank you so much for that and we'll definitely be back. We've been touring for a few days straight and it was amazing. I love you guys," he added.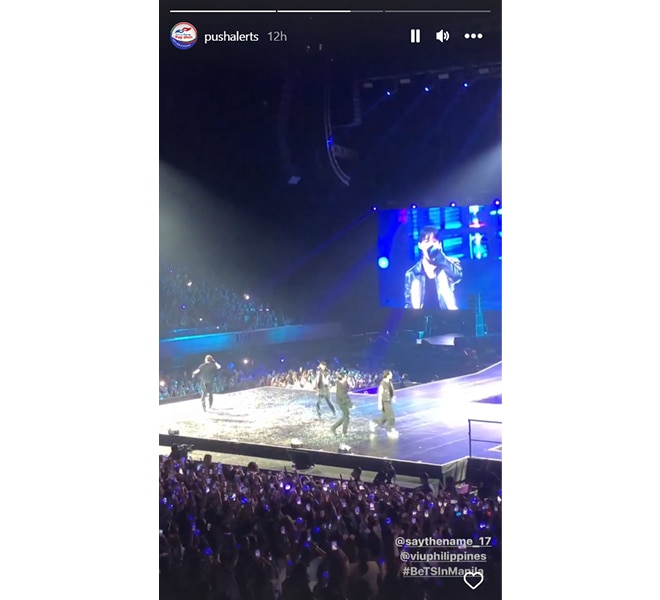 After being launched in 2015, SEVENTEEN continues to be a hugely successful 13-piece act based on the interaction of their three units: hip-hop, vocal, and performance.
Their album Face the Sun debuted at No. 7 on the Billboard 200, as well as No.1 on Billboard's Top Album Sales chart and the World Albums chart.
SEVENTEEN is one of just two artists in K-pop history, along with BTS, to exceed the two million mark for first-week album sales with the release.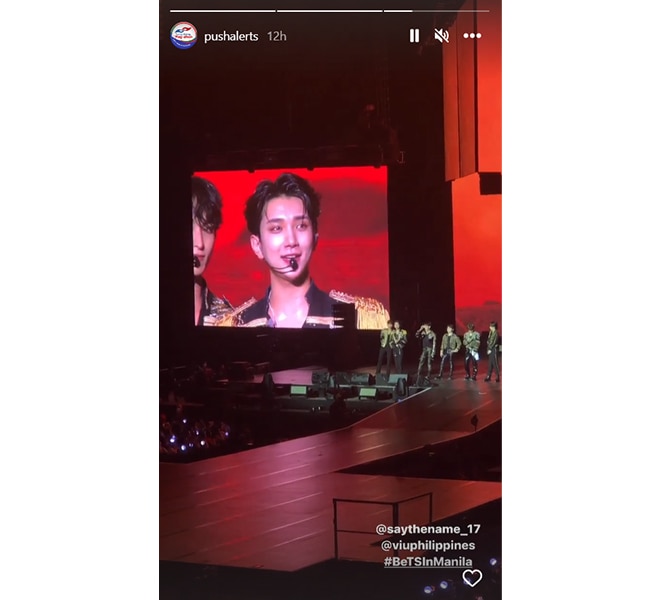 The SEVENTEEN Be the Sun World Tour MANILA event was made possible by Pledis Entertainment, Hybe, and Live Nation PH, in partnership with Smart Communications, Inc. and Viu Philippines.
Meanwhile, fans can continue to watch SEVENTEEN on Viu shows like Amazing Saturday, Mom's Diary, Stars' Top Recipe At Fun-Staurant, Dogs are Incredible, and Men on a Mission.