Almost two decades after they last worked together, George Clooney and Julia Roberts are reunited onscreen in the romantic comedy Ticket to Paradise. The movie follows the hilarious adventures of a divorced couple trying to stop their daughter from making a big mistake, one that they themselves know very well—or so they think.
The two stars first worked together in 2001 for the ensemble crime caper Ocean's Eleven. The film became a hit and spawned a sequel Ocean's Twelve which came out three years later. Julia was unable to return for the last sequel Ocean's Thirteen in 2007 since she was pregnant at the time of production.
In Ticket to Paradise, George and Julia play David and Georgia, a divorced couple who share a daughter Lily (Kaitlyn Dever) who is on the verge of making what they believe is a big mistake. Lily has a whirlwind romance with seaweed farmer Gede (Maxime Bouttier) whom she meets on her graduation trip to Bali. Lily intends on marrying him soon—too soon for her parents' tastes. David and Georgia set aside their differences—at least try to—and stop Lily from tying the knot.
Watch the trailer:
Director Ol Parker said of making Ticket to Paradise, "The world had completely changed when the pandemic hit. I thought about what I wanted to write and work on next, and I landed on writing something that would make people happy—something joyous and optimistic. Romantic comedies bring a large audience together to collectively laugh with each other, and after a few tough years, that seemed like a beautiful thing to bring to the big screen."
As for George getting on board the project, the actor said, "Julia and I weren't actively looking for a project to do together, but, of course, it was easy to say yes to a chance to work on another project with her.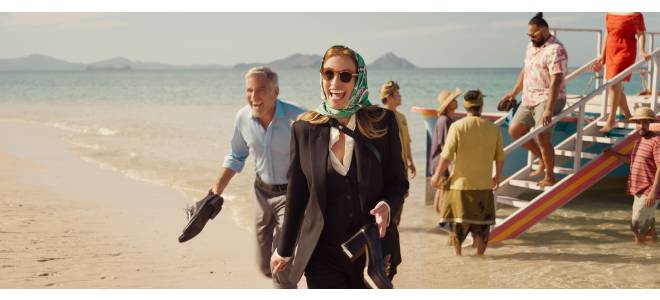 "Ol Parker sent the script to both of us at the same time and said that he had written the parts for Julia and me. So, right after I read it, I called Julia and told her, 'I'll do it if you do it,' and she said, 'Well, I'll do it if you will.' And not long after that, we were heading to Australia." The film had to be shot in Australia instead of Bali, Indonesia due to lockdown restrictions.
The actor also gave more details about his character David. "In all the years since he and Georgia divorced, the fire is still there for him, but he's convinced that Georgia has moved on and that he needs to make peace with that. She has a new boyfriend and a new life without him, and he doesn't want to risk the hurt of being shut down or making things more complicated than they already are, and more than anything, he doesn't want to compromise his relationship with his daughter Lily."
READ: Brad Pitt, Margot Robbie, Tobey Maguire to star in 'Babylon'
George and Julia's friendship also helped flesh out their characters. "George and I have always had a good chemistry as friends. We approach our work in similar ways as well. I think we also get a lot of joy out of making each other laugh. So, each day was like a search for me to find how I could make George laugh. We both take an immense amount of care in creating an environment where people feel creative and happy at work. It brings out the best in everyone."
Julia has even jokingly referred to herself as the "fifth Clooney" as she regularly hung out with George and his wife Amal Alamuddin Clooney and kids.
Meanwhile, Indonesian actor Maxime Bouttier, who makes his Hollywood debut in the film, hopes the movie will help bring the tourists back to Bali. "Ever since COVID hit, Bali's tourism has faded to a complete halt. Even now, Bali is still struggling to get tourism back, so a movie like this that's set in Bali in a romcom format will hopefully invite the world back into Bali."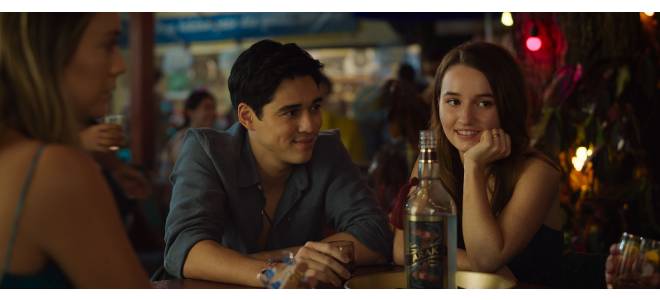 Ticket To Paradise opens in local cinemas nationwide on October 5.