Carlo Aquino was supposed to be part of the hit Korean series Squid Game.
In an Instagram Story of Beatrice Candaza, the sister of the actor's partner Trina Candaza, she revealed that Carlo was supposed to fly to Korea with his family to film the series. This did not happen because of the restrictions brought by the pandemic.
"@Jose_Liwanag was supposed to play a role in #SquidGame but travel restrictions happened. I remember @trinacandaza calling me and saying that they'll stay in Korea for a few months back in 2020. I'm sure there would be more opportunities!" Beatrice shared.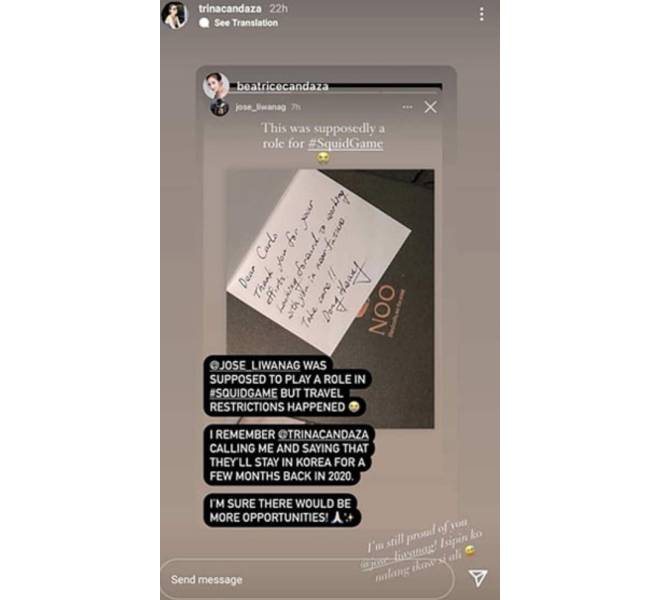 The Instagram Story was reposted by Trina saying that though Carlo was not able to join the series, she is still proud of her partner.
"I'm still proud of you @jose_liwanag! Isipin ko na lang ikaw si Ali (one the characters in the series)," she wrote.
Back in June 2020, Carlo posted on his Instagram the letter he received from Squid Game director Hwang Dong Hyuk.
"A hand written note from a brilliant director. Wooop!! Couldnt be more excited to work with you guys once this pandemic is over. #HwangDongHyuk," Carlo shared.
READ: Carlo Aquino thanks Star Magic: 'Tinuruan nila akong maging professional'
Squid Game is a hit Netflix series which tells the story of a group of people who join a survival game to win billions.
It stars Lee Jung-jae, Park Hae-soo, Oh Yeong-su, HoYeon Jung, Heo Sung-tae, Anupam Tripathi, and Kim Joo-ryoung, among others.