Actress Angel Locsin thanked those who prayed for her 94-year-old father, Angelo Colmenares, a day after she confirmed that he tested positive for COVID-19.
Angel confirmed her father's diagnosis on Instagram on Sunday, September 12.
"It's been a week of feeling helpless. Imaging having COVID at 94. Now imagine being blind in unfamiliar surroundings," she wrote in her previous post, as she shared a photo of her father being taken into an ambulance.
"So many realizations during this pandemic. We all have our battles, but some definitely more than others," she added.
READ: Angel Locsin's 94-year-old father tests positive for COVID-19
In her latest update, Angel expressed her gratitude to those who wished for her father's speedy recovery.
She also explained why she decided to remove her earlier post from her Instagram page.
"Thank you for the prayers. I'm going to take my post down because this is something I don't want to remember. I just needed to air out yesterday. 10 members of the fam from separate houses got COVID," she revealed.
She added: "Thank you everyone for being a ray of sunshine to me and my family."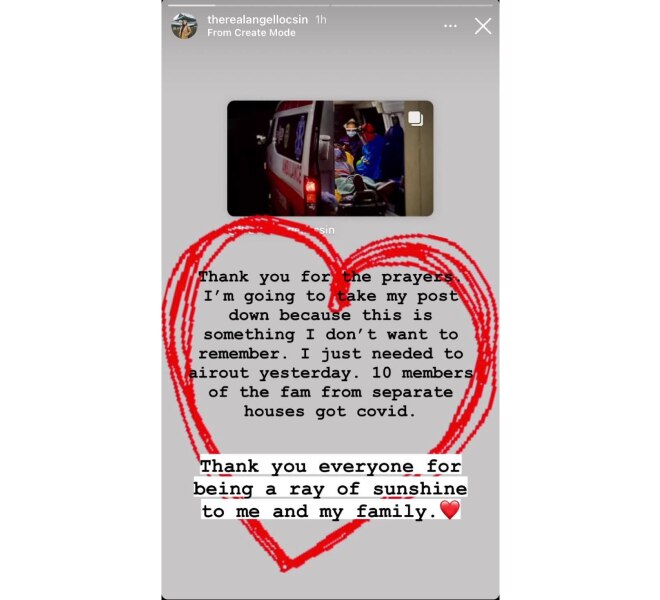 Before testing positive for COVID-19, the father of Angel received his first COVID-19 jab last April.
According to the Centers for Disease Control and Prevention, "COVID-19 vaccines are effective and are a critical tool to bring the pandemic under control. However, no vaccines are 100% effective at preventing illness. Some fully vaccinated people will get sick, and some will even be hospitalized or die from COVID-19. However, there is evidence that vaccination may make illness less severe for those who are vaccinated and still get sick. The risk of infection, hospitalization, and death are all much lower in vaccinated compared to unvaccinated people."
As of Monday, September 13, the Philippines lodged a total of 2,248,071 COVID-19 cases, with 35,307 deaths while 2,032,471 patients continue to recover from the disease.