Here's the official trailer for the film Kun Maupay Man It Panahon starring Charo Santos and Daniel Padilla.
The movie is directed by Carlo Franciso Manatad, who first gained attention when his short film Jodilerks Dela Cruz, Employee of the Month was nominated at the prestigious Cannes Film Festival in 2017.
It follows the story of a mother and her son who, in the aftermath of Super Typhoon Yolanda, "struggle for survival and deal with absurdity of fate, sustained by the hope that they carry, and what is lost and gained," according to its official synopsis.
Charo stars as Norma, the mother, while Daniel plays her son Miguel. Joining the two is newcomer actress Rans Rifol, who portrays Andrea, Miguel's friend.
READ: Meet the characters in 'Whether the Weather Is Fine'
Carlo, who was born in Tacloban, the hardest-hit city by Typhoon Yolanda, said the film "expresses an understanding of a devastation that has changed a community and humanity as a whole."
"It is a commentary in the form of a satire, and deals with the absurd generation we have become today," he added.
The movie is a joint project of Dreamscape, iWant, Quantum Films, Black Sheep, and Globe Studios, with international partner studios in France, Singapore, Indonesia, and Germany.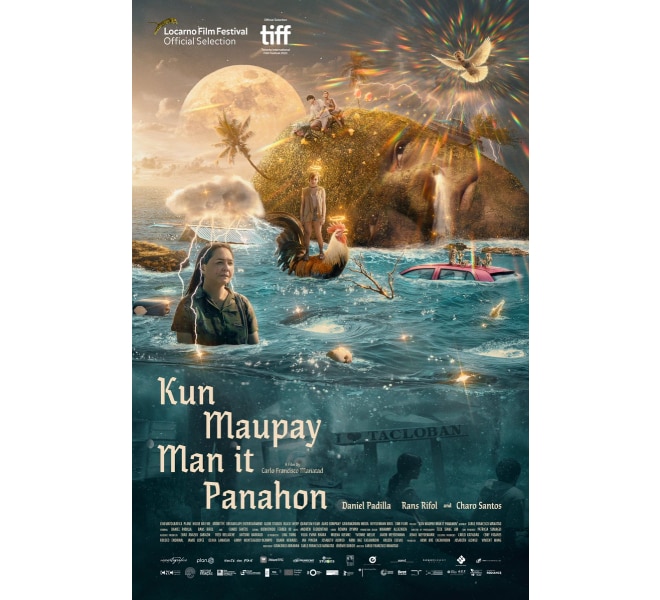 Source: twitter.com/theweatherfilm
Kun Maupay Man It Panahon is a competing entry at the 74th Locarno Film Festival in Switzerland.
The movie with the international title Whether the Weather is Fine is making its world premiere via the festival's Cineasti del presente Concorso, or Filmmakers of the Present Competition, which offers a selection of first and second feature films, primarily world premieres, directed by emerging global talents. The festival runs from August 4 to 14, 2021.
Meanwhile, it will have its North American premier at the Toronto International Film Festival (TIFF).
The film will be screened under the festival's Contemporary World Cinema section, and is the lone Philippine production in this year's lineup. The TIFF is taking place from September 9 to 18.