Celebrity and social media star Jinkee Pacquiao drew praise from her followers anew after a video of her being a doting wife to her husband Manny Pacquiao went viral on social media.
The video, which Jinkee herself posted on Instagram, shows her feeding a visibly beaten-up Manny following his shocking loss to Cuba's Yordenis Ugas in their welterweight bought in Las Vegas on Saturday, August 21 (US time).
Just four hours since it was posted, the video already fetched more than 75,000 "likes", and earned dozens of positive comments from Jinkee's followers, including KC Concepcion, Ruffa Gutierrez, Mariel Rodriguez, Dianne Medina, Phoemela Baranda, Miriam Quiambao, and Melissa Ricks.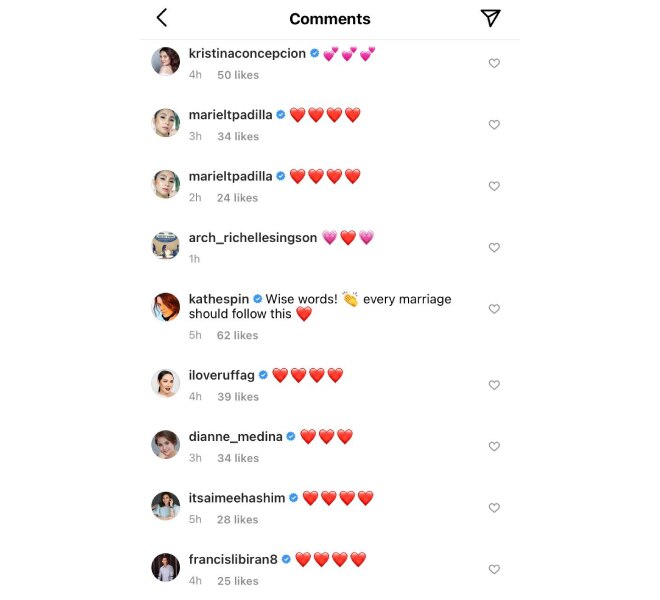 Earlier, Jinkee expressed her love and support for Manny, saying she is proud to be his wife.
"To my dear husband Manny, words cannot express how proud I am of the man you are. I'm proud to be your wife. You mean the world to me and all our children. We love you so much. We, your family have seen how much you have toiled, sacrificed, and given of yourself blood, sweat, and tears since the beginning when you dreamed of becoming world champion. You never think of yourself and not afraid to risk your life in the ring time and time again because you love to make the people happy. You have achieved by the Grace of God far more than you ever imagined. Yet you never stop working to be your best," she said.
She also assured her husband that despite his loss, he will always be the champion in the eyes of those who love and adore him.
READ: Pineperahan? Jinkee Pacquiao says she stood by husband Manny even before he got rich
"Over the years we have become even more proud to be by your side as you inspire us to be kind giving and helpful to all. More than your record feats in Boxing, it is your love for God, dedication to the Word, and desire to share Jesus to every person you meet that makes us admire you more. Always here for you, my babe!" she said.
"Win or lose in the ring you are forever the champion of our hearts," she continued. "To all our kababayans all over the world, thank you for loving Manny. He loves you more than you know. To You LORD, we continue to offer our lives. To God be all the glory!"