Actress and jewelry designer KC Concepcion answered in the affirmative when a netizen asked her if she would ever consider living in the United States for good.
The question was sent to her on Instagram Stories, where she held a brief question-and-answer session with her fans on Thursday, August 19.
"Yes," replied KC. "I've lived and studied in Boston and NYC. There is plenty to do here and I miss Europe very much but have great friends here, too."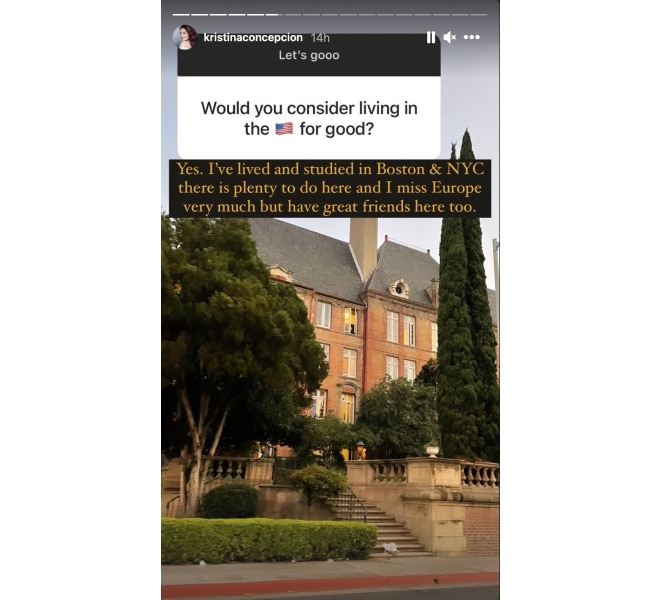 KC is currently in Los Angeles, California, where she has been enjoying her time abroad catching up with old friends, shopping, working out, and focusing on her jewelry line Avec Moi since June.
Like her mother Sharon Cuneta, KC is a legal resident in the US.
They even owned a mansion in Calabasas City in L.A. County, which Sharon later sold to American comedian Allen Covert, a frequent collaborator with Hollywood star Adam Sandler.
Previously, Sharon also admitted that she could leave the Philippines for the US "in a heartbeat," as she expressed happiness over her decision to take a break there last May.
READ: 'Iba ang buhay namin sa Manila': Sharon Cuneta thankful to live a 'normal' life in the US
"Being here makes it seem like COVID is a lot farther away than it ever was. I love the weather now (it's cold), and aside from seeing people wearing masks and not being able to watch movies at cinemas, eating at restaurants tables apart, it almost feels like life is normal again... I love being 'home' here," she said on Instagram.
"Though I lived in Boston for a year++ and love New York, the West Coast has always felt like home to me since I was a little girl. I could live here forever. Kiko (her husband) would NEVER leave the Philippines no matter what though. I could. In a heartbeat! Sorry na lang, life is short," she added.