Actress Lara Quigaman revealed on Wednesday, July 21, that she was hospitalized due to acute pyelonephritis or kidney infection.
In a series of posts on her Instagram Stories, Lara said she and her family had just gotten home from their week-long vacation in Cebu when she started feeling unwell.
"Sobrang nag-enjoy kami sa Cebu, pero napagod din pala ako. Pag-uwi sa bahay, naramdaman ko ang sobrang pagod. Pati likod ko sobrang sakit. May 3 bata pang sobrang clingy at medyo 'di ko na kinaya. I had a meltdown. Naiyak ako at sabi ko sa sarili ko, gusto ko lang muna mag-isa. Magpahinga. Gusto ko ng tahimik... Maya-maya, nilagnat na ako, nag-chills," she said.
After two days of high fever and chills, Lara was rushed to the hospital and was isolated until she got a negative COVID-19 test result.
"I felt guilty for wanting to rest. I got what I wished for, but it was horrible, I was in pain and shivering, and alone," she said. "But God knew I needed to rest. He reminded me that my children will survive without me. That I also need to take care of me."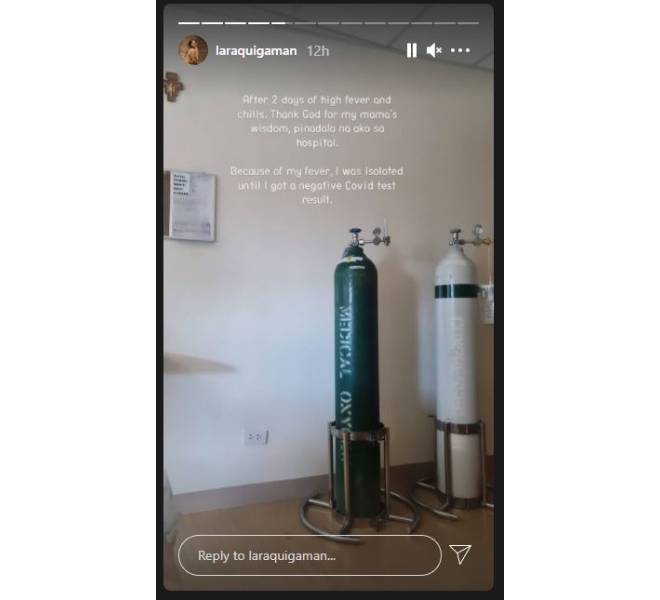 "I spent 3 nights in the hospital. The first 2 nights were horrible because I still had high fever, pain and chills, but the last night—I think tulo laway tulog na ako.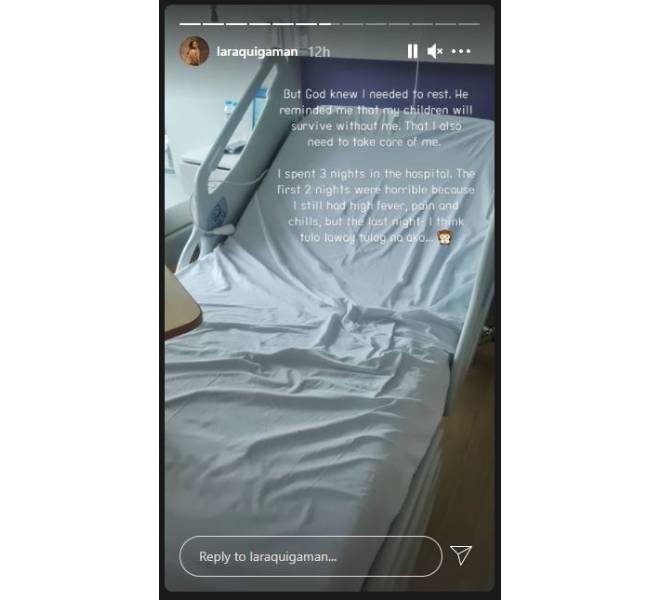 Sharing a selfie of herself in the hospital bed, Lara said: "Nakapag-selfie na ako dito kasi pinayagan na ako umuwi ng doctor. Acute pyelonephritis. I was given antibiotics via IV. Now getting better. Thank You, Jesus!"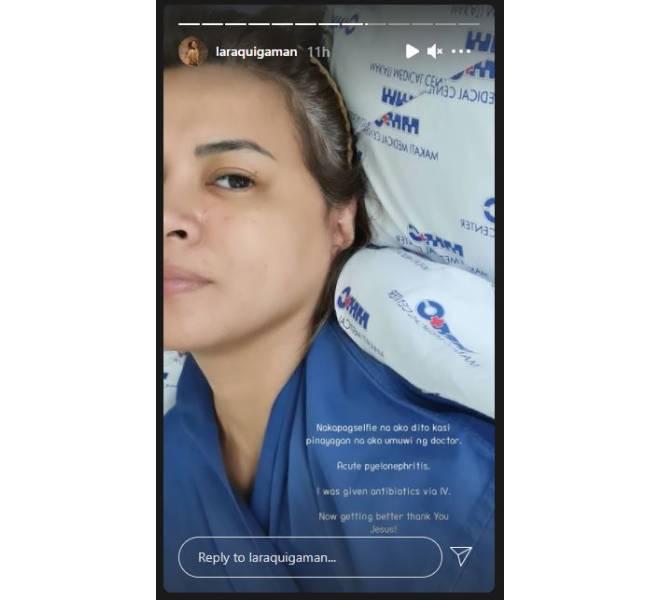 In her next Story, Lara shared photos of her kids sleeping, along with the caption, "Back home. Balik siksik na naman sila... Okay na ako. Will remember to rest and take it easy. And to ask for and accept HELP."
She ended by thanking her family and friends who all prayed for her fast recovery. She also reminded her followers to "rest too when you need to".
"The world can and will go on while we rest," she said.
READ: Lara Quigaman shares experience as a mom of three amid pandemic
Lara was in Cebu with her family to celebrate the ninth anniversary of her marriage to Marco Alcaraz, as well as the actor's 41st brithday.