Kris Aquino had the perfect response to a basher who said she looks ugly without makeup.
"Pangit pala [si] Miss Kris pag walang makeup. Sorry just saying," read the comment, which was left on a June 7 post on Kris's official Facebook page.
Instead of getting offended by the harsh comment, the "Queen of All Media" just shrugged it off.
In her response, she said: "Beauty is in the eye of the beholder. I could so easily say a very bitchy comment about your looks right now pero bakit pa? Hindi naman ikagaganda ng buhay ko and hindi rin makakatulong sa lipunan.
"Siguro you need to find your happiness? And thank God di ba, ako gumaganda pag may makeup," she added.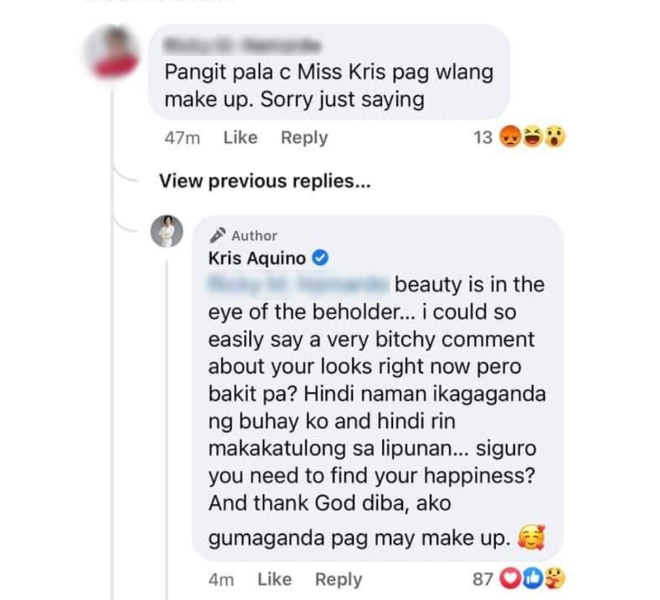 Photo grab from: Fashion Pulis
Kris, 50, is no stranger to online bashing.
Just recently, the actress-host made headlines after she lambasted a netizen who made fun of her youngest son Bimby's gestures on social media.
READ: Kris Aquino lambasts basher who made fun of Bimby's gesture: 'I look forward to the day I see you face to face'
"You know I have had enough of this bullsh*t. If that's the only thing you can criticize about my son then I have really done a f*cking great job as a mom. On the other hand I must say the fact that you choose to pick on the gestures of a 14-year-old boy says so much about your lack of propriety," she said in her response.
"I have shut up for too long but I have had it. This is my feed, and you are bullying the wrong boy. I am not going to criticize you physically but I will call you out on your lack of decency. You cannot handle attacking me so you are attacking my son. You chose the wrong mom. I look forward to the day I see you face to face," she added.
Last April, Kris said she has decided to limit her social media posts about her children after all the hateful remarks they have received online.
"I'm partly to blame kung nadamay man mga anak ko. I'm taking full responsibility. I can never shield them fully because from the time they were born, I was already Kris but I can choose what I can show you," she said in a video uploaded on her Facebook page.
She also thanked those who continue to support her amid all the controversies she and her family have gone through.
"Wala akong utang na loob sa mga taong walang magawa sa buhay nila kundi pintasan ako. Pero napakalaki ng utang na loob ko dun sa mga taong come what may, minamahal niyo ko," she said.