As Nas Daily officially opens its 12 new academies in the Philippines, the phenomenal social media content creator officially announced the names of the personalities coming from different respective fields who will take part in the exciting project.
"Nas Academy helps the best people in the world start their own Academies and become TEACHERS," Nas Daily wrote in a Facebook post.
"We are going to help hundreds of Filipino Creators become teachers! Because Knowledge is the only thing that increases when you share it with others," he remarked.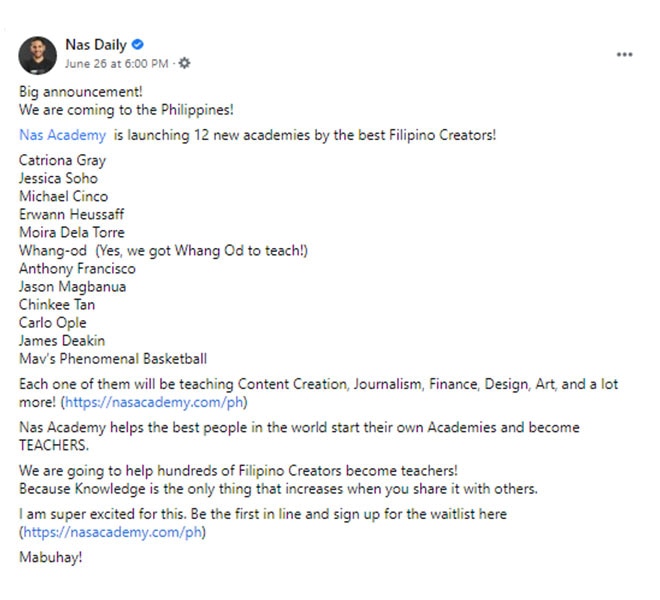 Among the celebrities who will be joining the Nas Academy will be award-winning artist Moira Dela Torre, Miss Universe 2018 Catriona Gray, and vlogger-restaurateur Erwan Heusaff.
Moira, who will be teaching about songwriting, took to social media to express her gratitude to be chosen as part of the project.
READ: Moira dela Torre explains her writing style
"So so thrilled to announce that we are partnering with Nas Daily!!! We are launching the 'Moira Dela Torre: on storytelling through songwriting' Academy on the renowned online platform, NAS Academy where I will be sharing my knowledge & experiences on how to effectively turn your stories into songs," she wrote in the caption of her post.
Catriona, who will be teaching a course on how to become a beauty queen, likewise shared the "big" news on her social media accounts.
"Hey guys, I have some BIG news coming your way! I'll soon be launching 'The Catriona Gray Academy' on the renowned online learning platform, Nas Academy @nasacademy. I'll be joining a long list of content creators who've turned educators at the Academy—and I can't wait to use this platform to teach you how to empower yourself every single day," she wrote in her post.
READ: Moira Dela Torre seeks help of Catriona Gray's coach to conquer stage fright
She added: "This is my first, in-depth course teaching you the skills and tips I used to conquer the Universe and every other stage I've been on since!"
Other prominent personalities who will be part of the Nas Academy include multi-awarded journalist Jessica Soho, globally-renowned fashion designer Michael Cinco, acclaimed traditional tattoo artist Whang-Od, videographer-to-the-stars Jason Magbanua, and transport advocate and news personality James Deakin.
Right now, courses have yet to be launched but waitlists have been already opened on https://nasacademy.com/ph.
Nas Daily has inspired millions of Filipinos with his videos from around the globe especially the ones highlighting the Filipino spirit and the beauty of the Philippines.