PBA star James Yap took to social media to mourn the death of former Philippine president Benigno "Noynoy" Aquino III, who passed away on Thursday, June 24 at the age of 61.
In an Instagram post, James thanked PNoy — the brother of his ex-wife, actress-host Kris Aquino — for being nice to him.
"Rest in peace President Noynoy Aquino. Thank you for being nice to me. You will be missed," James said.
The cager's Italian partner Michela Cazzola, for her part, condoled with Kris on the passing of her brother, whom she said she had the "honor to work with during his administration" as president.
"Am sorry to hear about the sad news," Michela added.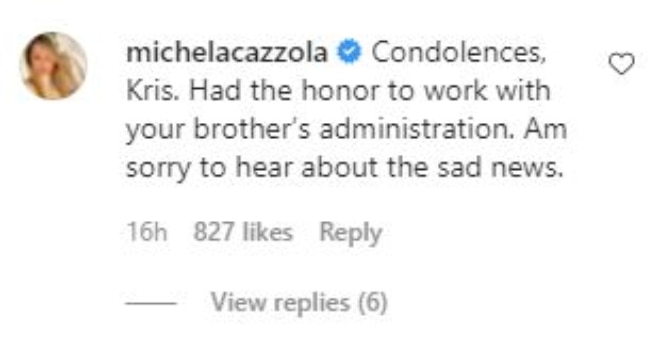 James and Kris had a civil wedding in 2005. Their marriage was annulled in 2012. They have one child together, 14-year-old Bimby.
Meanwhile, James and Michaela have two kids — Michael James, who will be turning 5 this August, and Francesca, who will turn 3 this month.
PNoy, who served as president of the Philippines from 2010 to 2016, passed on due to renal disease, secondary to diabetes. He was 61.
In their official statement, the Aquino family revealed that PNoy had already been in and out of the hospital due to his illness even before the start of the COVID-19 pandemic.
READ: Official statement of Aquino family on passing of former president Benigno 'Noynoy' Aquino
In her own statement, Kris expressed gratitude that she and her brother "made our peace" before his untimely death.
"Hindi talaga ito namin inaakalang mangyayari. Nagulat kaming lahat. The only [thing] I can say and it's the only thing I will say: God blessed me because we made our made peace May 8th," she said.
"But that is private. I would like to keep that for myself," she added. "But I'm so grateful na binigay 'yun sa akin at nagpapasalamat ako na napatawad ako at minahal ako."
Kris said she made a promise to her brother when the two of them met to settle the rift between them.
"And to the end, ang tinuring niya sa akin ay ako ang kanyang bunso. And pinangako ko sa kanya, gagawin ko ang lahat to be just even one percent of what he is as a man and as a Filipino," she said.