Victoria's Secret and Filipino-American model Kelsey Merritt took a trip down memory lane and looked back on her college life at the Ateneo de Manila University.
On her Instagram Stories, Kelsey recalled that there was this one time when she needed to fly to Sweden for a shoot while doing college paperwork on the plane during her senior year at Ateneo.
"I had to shoot for H&M in Sweden and my 20hr flights abroad from the Philippines usually looked like this—doing papers or catching up on readings I was missing out on," she relayed.
Kelsey relayed that the toughest part of it all was having to balance her time between school and work.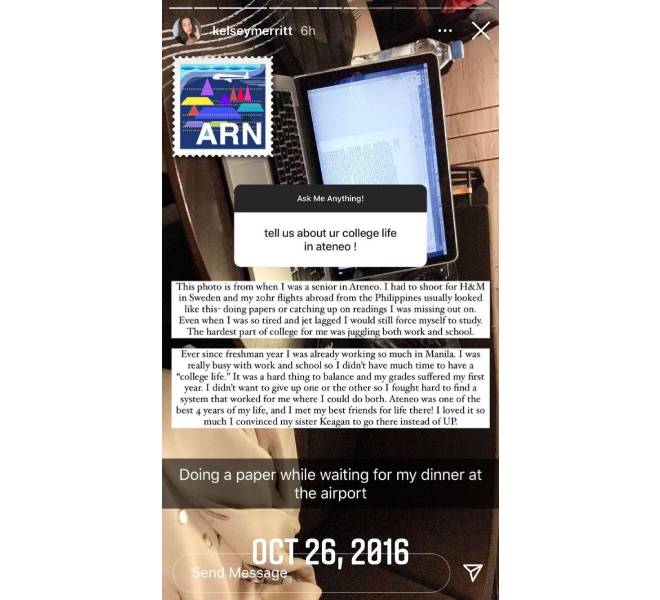 "Even when I was so tired and jet lagged I would still force myself to study. The hardest part of college for me was juggling both work and school," she said.
READ: Victoria's Secret model Kelsey Merritt joins Viva Artist Agency
The model relayed that ever since freshman year, she was already working a lot in Manila.
"I was really busy with work and school so I didn't have much time to have a 'college life.' It was a hard thing to balance and my grades suffered my first year. I didn't want to give up one or the other so I fought hard to find a system that worked for me where I could do both," she said.
She remarked that Ateneo "was one of the best 4 years of my life."
Kelsey added, "I met my best friends for life there! I loved it so much I convinced my sister Keagan to go there instead of UP," she relayed.