Camille Prats assured netizens that she is at her "healthiest" as she addressed comments about her slimmer figure.
On her Facebook page, Camille remarked, "To those sending comments about my body, I am at my healthiest po. I know I cannot please all of you, but I don't see anything wrong with my body."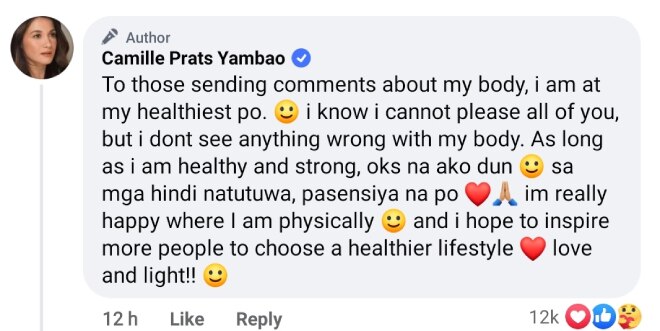 She added that she is happy about her current figure.
"As long as I am healthy and strong, oks na ako dun. Sa mga hindi natutuwa, pasensiya na po. I'm really happy where I am physically and I hope to inspire more people to choose a healthier lifestyle. Love and light!!" she said.
Camille has been chronicling her fitness journey on social media.
READ: Camille Prats gives a glimpse of new house under construction
She has been posting her workout routine online. She also shared that she recently got into Pilates.
"Pilates corrects form and posture and its really good for those who have back problems. I have mild scoliosis that's why Pilates is very important for me to strengthen my core to support my back especially when I lift weights," she relayed.