The Sandman, the award-winning graphic novel by British author Neil Gaiman, is finally getting adapted into a live action series. Netflix recently dropped a trailer offering a sneak peek of the long-awaited adaptation.
There had been previous attempts to adapt Sandman into a film since the '90s but it became stuck in development hell with numerous changes in script, cast, crew, and even format. The Netflix series will be the first time that fans will finally get to see the iconic Sandman come to life onscreen.
Gaiman signing on as an executive producer and writer should be reassuring to Sandman readers who like most comic book fans have reservations whenever a title is adapted to either a movie or a series. Allan Heinberg (Wonder Woman, Grey's Anatomy) and David S. Goyer (Batman Begins, The Dark Knight, Terminator: Dark Fate, Foundation) both serve as executive producers and co-writers on the series as well.
The Sandman is "based on my comic book series of the same name. A rich blend of modern myth and dark fantasy in which contemporary fiction, historical drama and legend are seamlessly interwoven, The Sandman follows the people and places affected by Morpheus, the Dream King, as he mends the cosmic — and human — mistakes he's made during his vast existence," Gaiman wrote in a blog about the series.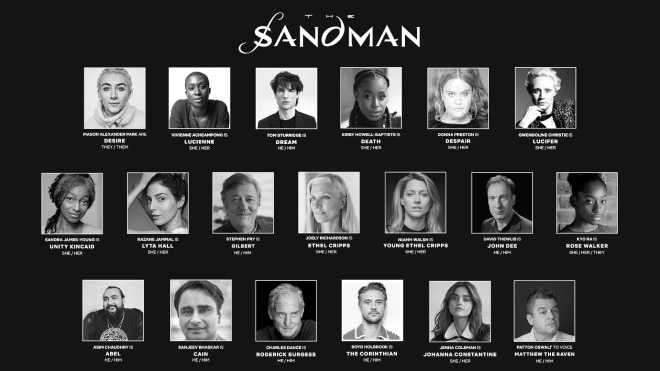 "Tom Sturridge (he/him) is Dream of the Endless, Gwendolyn Christie (she/her) is Lucifer, Sanjeev Bhaskar (he/him) and Asim Chaudhry (he/him) are Cain and Abel, Charles Dance (he/him) is Roderick Burgess, Vivienne Acheampong (she/her) is Lucienne, and Boyd Holbrook (he/him) is The Corinthian," he added.
Kirby Howell-Baptiste (she/her) plays Death, Dream's "wiser, nicer, and much more sensible sister." Mason Alexander Park (they/them) plays Desire with his twin Despair played by Donna Preston (she/her). Jenna Coleman (she/her) is Johanna Constantine, John Constantine's (once played by Keanu Reeves in the movie and Matt Ryan in the Constantine series) great-great-great grandmother. Joely Richardson (she/her)plays present day Ethel Cripps, while Niamh Walsh (she/her) plays the younger version. Harry Potter alum David Thewlis (he/him) plays John Dee.
Take a look at the trailer here:
Production has already started on The Doll's House, the second big Sandman storyline.