Miss Universe 2020 2nd runner-up, Peru's Janick Maceta del Castillo, has reacted to the earlier statement of the Philippines' representative Rabiya Mateo where the latter described her as her "sister" during the pageant.
In her statement, Rabiya recalled how she and Janick would pray together during the preliminaries of the competition.
"I remember during the preliminaries, we were praying together. We were lifting all of our worries to God. Ang sabi namin, whatever success we have, we're giving it back to the Lord," the Ilongga beauty queen said.
"Siya (Janick) 'yung parang sister ko," she added.
Obviously touched by Rabiya's kind words, Janick wrote on her Instagram Story: "Awww, my beautiful @rabiyamateo. You are the sweetest.
"I miss you already. You are such an amazing woman. I love you and loved praying with you. See you soon in Philippines."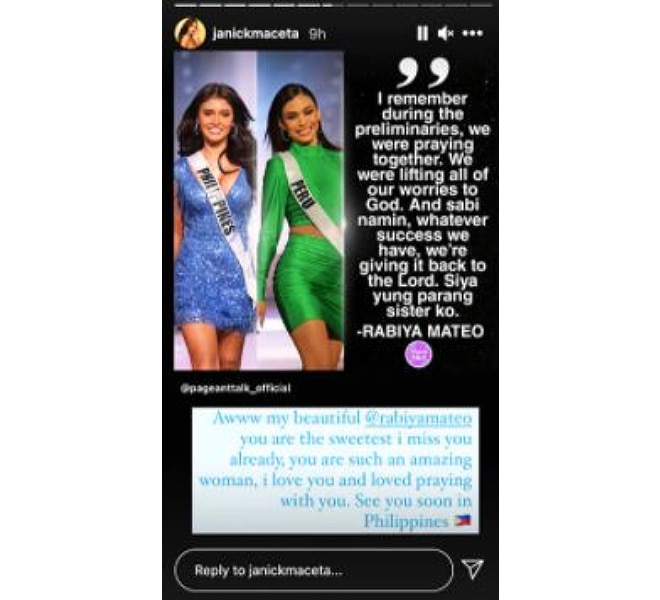 Like Rabiya, Janick was also a top favorite to be crowned the winner. However, it was Mexico's Andrea Meza who ended up taking home the Miss Universe crown.
READ: Get to know Miss Mexico Andrea Meza, the new Miss Universe
Rabiya, for her part, entered the Top 21, but fell short in making it to the Top 10 of the competition.
In her message to the country following her loss, Rabiya said she considers it an honor to be able to represent the Philippines in the Miss Universe pageant.
"It was such a beautiful moment to represent you, Philippines. I am forever honored to be part of the legacy, of our history," she said in her post.
"In my heart, I did everything I can. I trained really hard to be physically fit. I would have sleepless nights trying to read articles to be updated. I made a lot of sacrifices people can't sometimes see. Early calltime. Late night rest. Trying to be sane and motivated. It was a challenge but it made me so much stronger everyday," she added.