Liza Soberano once again stressed that she has no plans of joining beauty pageants.
This was after an account with her name claimed that she will be joining the next Miss Universe pageant.
"Pag si Rabiya talaga 'di maiuwi ang crown, ako talaga sasali next year!" one post on the account said.
"Bawi tayo next year! Ako bahala," another post stated.
Liza pointed out that it was a fake account and urged her followers to report the page.
"As much as I am flattered and grateful for all of your support and comments saying that I should give Miss Universe a try, I really don't think it is for me," the actress clarified on her Instagram Stories.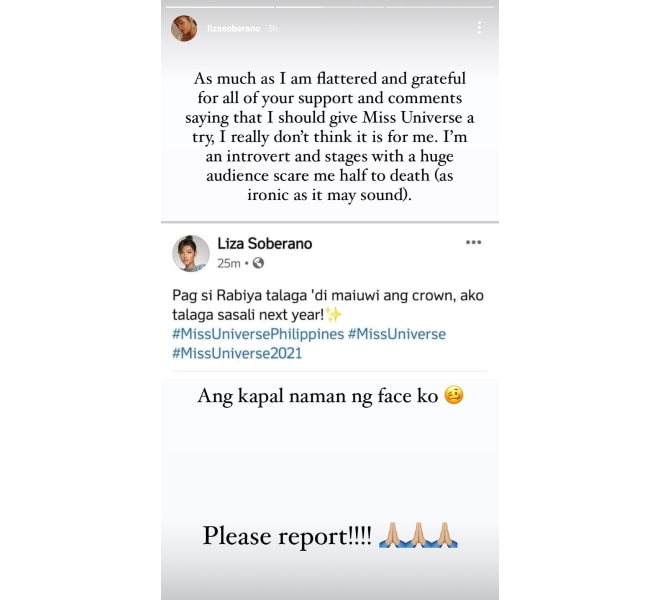 Liza also said that she is an introvert.
"Stages with a huge audience scare me half to death (as ironic as it may sound)," she explained.
READ: Liza Soberano to remain a Kapamilya, to headline new movie with Enrique Gil
On Twitter, Miss Grand International 2020 1st runner-up Samantha Bernardo said she also believed that Liza has potential to join Miss Universe.

"May laban to eh!!! Kaso baka macooking show... wag na muna... trust his timing na lang," Samantha commented on the Twitter post of ABS-CBN News about Liza.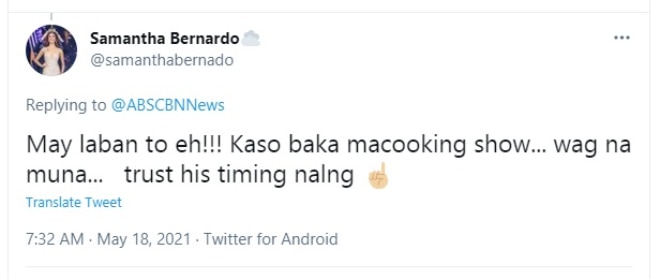 On separate occasions in the past, Miss Universe winners Pia Wurtzbach and Catriona Gray also named Liza as a possible Miss Universe-worthy candidate.
However, Liza also remarked previously that it is not something that she could commit herself into.
"Honestly [I] don't see it in my career path, because I'm very passionate about acting. Being a beauty queen takes a lot of time. Of course, I'd have to prepare physically, I'd have to prepare my walk, how beauty queens act. It requires a lot of training. I don't think kaya ko mapalayo sa acting for that long," she said in her past interview.