Kris Aquino did not mince words after a netizen made fun of Bimby's gestures on social media.
On Kris's Instagram page, the said netizen commented, "Pilantik ng mga daliri."
In response, Kris called out the basher for bullying her son saying, "You know I have had enough of this bullsh*t. If that's the only thing you can criticize about my son then I have really done a f*cking great job as a mom. On the other hand I must say the fact that you choose to pick on the gestures of a 14-year-old boy says so much about your lack of propriety."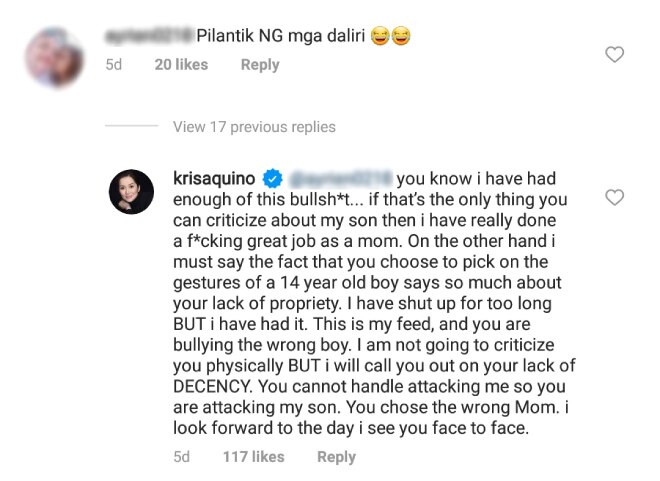 The Queen of All Media said that she already has had enough of people bullying her son.
"I have shut up for too long but I have had it. This is my feed and you are bullying the wrong boy," she said.
Kris added that the basher lacks decency for saying those words to Bimby.
"I am not going to criticize you physically but I will call you out on your lack of decency. You cannot handle attacking me so you are attacking my son," she stated.
READ: 'Whatever you are, I'll accept,' Kris tells son Bimby on gender orientation
Kris remarked that she would want to see the basher face to face in the future.
"You choose the wrong mom. I look forward to the day I see you face to face," she stated.