Heart Evangelista categorically denied that she had a nose procedure after a female netizen claimed that she will be undergoing surgery with the doctor who did the nose of the actress.
"Who is this doctor because I can actually tell him I didn't do my nose and he is lying to you. Please give me the name. You can actually sue him for lying to you," Heart replied to the already deleted post of the netizen.

The actress then asked netizens to send to her the names of anyone who has been claiming that she did cosmetic surgery.
"To anyone who claimed the same to you pls message me their names. This is horribly wrong. To lie to you about this is just so so wrong. I'd rather a rumor then someone actually claiming they did my nose ( I did not ) (sic)," she said.

The actress stressed that there is nothing wrong with undergoing cosmetic procedures but she urged her followers to not believe anyone who is claiming that she had her nose done.
READ: Heart Evangelista opens up about insecurities: 'I knew I did not always fit in'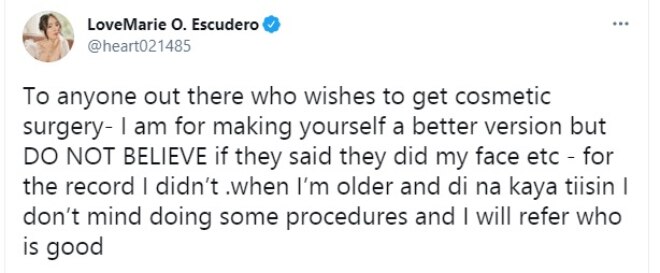 "To anyone out there who wishes to get cosmetic surgery- I am for making yourself a better version but DO NOT BELIEVE if they said they did my face etc - for the record I didn't. When I'm older and di na kaya tiisin I don't mind doing some procedures and I will refer who is good," she stated.