Derek Ramsay said he meant "no disrespect" to John Lloyd Cruz when he posted a video of his bonding moment with the latter's son, Elias Modesto.
Based on a screenshot posted on a gossip website this Thursday, March 4, Derek made the comment as he responded to a netizen who called him out for being "insensitive" to John Lloyd's feelings.
"Ramdam ko 'yun pain niya as a father. Godbless to him," the netizen also wrote.
In his response, Derek said: "I mean no disrespect to him. I know he is a good father."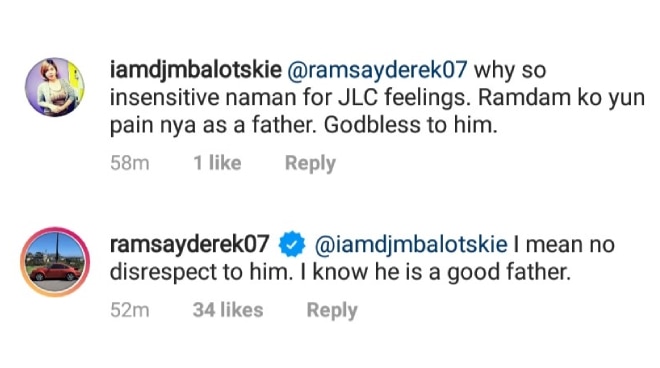 [From Fashion Pulis]
Ellen Adarna, Derek's current girlfriend and the mother of Elias, also addressed a comment from another netizen who said she and the hunky actor "should be ashamed of yourselves" for having posted the video.
"That's so wrong in so many levels. What you do with your lover/partner is your business but must you really post it for everyone to see? I was once a single mom myself so I know what Elena is going through but I never disrespected the father of my child. No matter what happened between us, I could never do that," the netizen wrote.
"You and JLC once loved each other so I can't even begin to understand why you guys had to post this. And as for you Derek, whom I once idolized and respected, I am very disappointed in you. You are a man yourself and was hurt a few times, how do you think JLC feels when he sees this with his son in it? I am completely and utterly disgusted. What exactly are you guys telling people? You guys should be ashamed of yourselves. People already know you two are together. Isn't that enough?" the netizen added.
In her reply, Ellen calmly told the netizen to have an "open mind and an open heart."
"So everyone needs to adopt your values and beliefs just because you think it's right/ Because you think it's disgusting? Have an open mind and open heart. That is what the world needs. Not your unsolicited advice... and let's say I listen to you, what would it do for you? Believe what you want, just don't impose them on others," she said.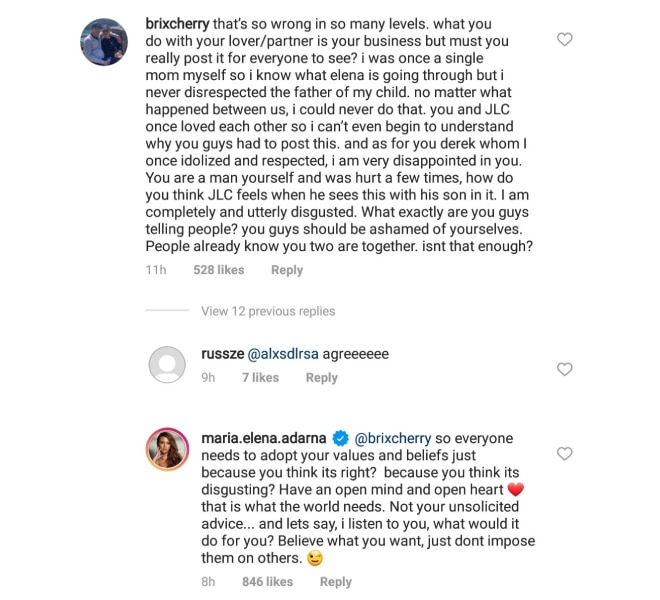 [From Fashion Pulis]
Before Derek, Ellen's last known relationship was with John Lloyd. They were rumored to have parted ways in 2019, over a year after they welcomed their son Elias, now 3.
Months later in April 2020, Ellen finally confirmed the breakup, as she opened up about her past relationship with John Lloyd in an interview with Preview magazine.
"You know, we weren't compatible, obviously, that's why we broke up. Of course, any normal breakup hurts. You want things to work," Ellen said.
READ: Ellen Adarna on co-parenting with John Lloyd Cruz: 'I see how happy my son is when he is around'
Though they are no longer together, Ellen said things are so much better now for her and John Lloyd. Personally, she said she feels like she is now "in a very good place" following the split.
"I can say I'm 100% okay. I feel my environment changed. Like his approach to me, my relationship [with him has] changed without asking him to change. So I was just really the problem [laughs]. How I viewed it, my thinking pattern, was the problem," she said.
She also acknowledged John Lloyd's close relationship with their son.
"My son needs him as much as he needs me. I see their relationship and I see how happy my son is when he is around," she said.