Following reports of celebrities Devon Seron and Kiko Estrada's alleged breakup, Heaven Peralejo's name emerged as some netizens accused her of being the third party. Heaven and Kiko are both part of the Kapamilya drama series Bagong Umaga.
READ: Devon Seron posts cryptic message, triggers breakup speculations
However, the actress took to Instagram to release a statement, clearing her name and denying any involvement in the breakup.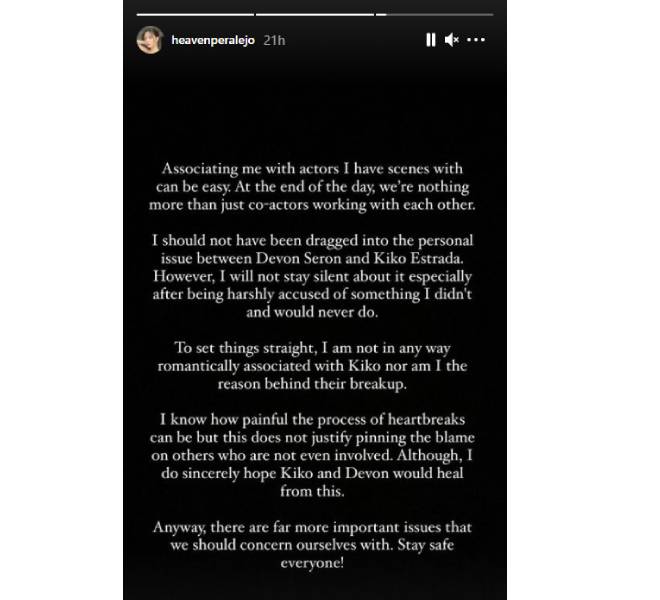 On her Instagram stories, she wrote, "Associating me with actors I have scenes with can be easy. At the end of the day, we're nothing more than just co-actors working with each other."
"I should not have been dragged into the personal issue between Devon Seron and Kiko Estrada. However, I will not stay silent about it especially after being harshly accused of something I didn't and would never do."
"To set things straight, I am not in any way romantically associated with Kiko nor am I the reason behind their breakup," she said.
Further, Heaven wrote, "I know how painful the process of heartbreaks can be but this does not justify pinning the blame on others who are not even involved. Although, I do sincerely hope Kiko and Devon would heal from this."
"Anyway, there are far more important issues that we should concern ourselves with. Stay safe, everyone!" she ended.
Likewise, Heaven's mother Luanne Peralejo also came to her daughter's defense and sent out a message to all those who have been dragging her child's name in this issue.
On her Instagram page, she wrote, "I am calling out to those who are responsible for spreading LIES about my daughter, HEAVEN, with clear intent to destroy her reputation. They are outright FALSE and MALICIOUS.
"For days, IG posts are insinuating that Kiko Estrada has been cheating on her ex-girlfriend, unnecessarily dragging HEAVEN as the third party. Without even trying to know the truth, these irresponsible people took to social media with ill-intent to create a bad image out of HEAVEN.
"We exerted all efforts to reach out, and to DEMAND to PUT A STOP to these malicious acts. Sadly, these culprits refused to speak with me or with HEAVEN and continued to malign my daughter.
"Your failure to clear the name of HEAVEN has led to the continuing spread of these LIES to which my daughter is now being the subject of social media bullying. You show no mercy!
"As a mother, I simply cannot allow this. If it will mean bringing this matter to court in order for these culprits to publicly apologize and admit to their fault, then so be it.
"Again I appeal to you to STOP committing these malicious acts of spreading FALSEHOOD and APOLOGIZE PUBLICLY," she said.