"Clothes aren't like tissue you use once and throw away."
Heart Evangelista made this statement on Instagram over the weekend as she responded to a curious follower who asked if she repeats her outfits.
"For sure!" the actress and fashion icon said.
Explaining her answer, Heart wrote: "Now that I'm older and much more aware of what I make, I make sure to spend my money wisely. If I were to buy myself luxury items, I make sure I'll be able to use it for a long time."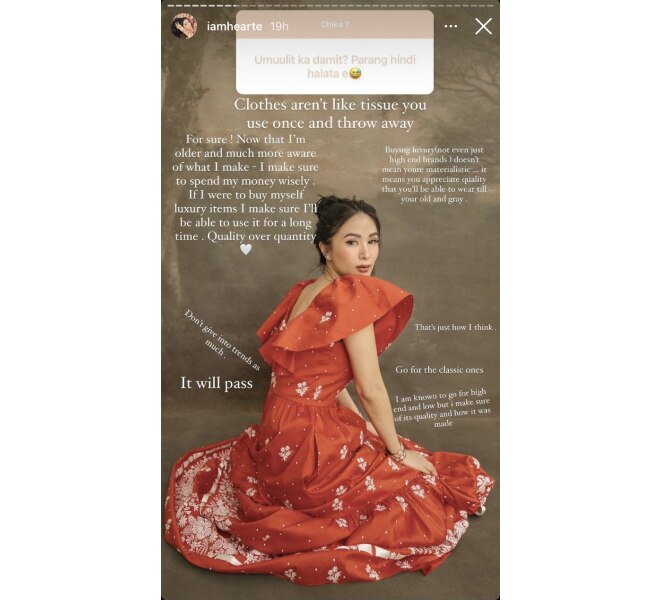 READ: 'I had no money': Heart Evangelista recalls having only 30 pesos in her ATM in the past
Heart said when she shops, whether in a high-end or low-end store, she always looks for pieces that are of good quality and are well-made.
"Quality over quantity," she said.
According to Heart, buying from luxury or high-end brands doesn't mean being materialistic—it only means that "you appreciate quality [pieces] that you'll be able to wear 'til you're old and gray."
The former Kapamilya star also gave some fashion tips, such as "Don't give into trends as much. It will pass." and "Go for the classic ones."
Heart, who turned 36 on Valentine's Day, is considered one of the country's style icons.
In 2018, she was dubbed a "Real Crazy Rich Asian" by Crazy Rich Asians author Kevin Kwan—along with Asian style icons Michelle and Rachel Yeoh, and Feiping Chang—in a special feature for Harper's Bazaar US.
Heart was also recognized by Vogue Magazine by including her in its prestigious "Vogue 100" list in 2019, and Forbes France, as one of its Top 10 Most Fashionable Influencers last year.