Janno Gibbs took to social media to make a statement regarding the public feud between him and comedienne KitKat which stemmed from their banter on the afternoon game show Happy Time on Net 25.
In a statement he posted on Instagram, Janno explained his side of things and said, "During live TV shows, and especially during game portions, it is usual for the hosts to challenge each other with playful exchange of words or teasing remarks to create more excitement, laughter, and fun for the portion."
Janno remarked that all along, he thought that they were "having an innocent, comedic banter and that she was playing along, but apparently, she had taken it personally."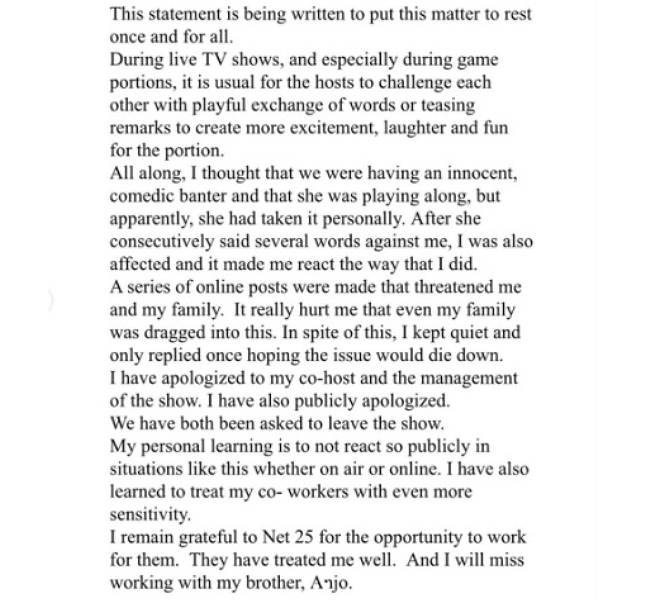 The singer-host also explained why he reacted the way he did saying, "After she consecutively said several words against me, I was also affected and it made me react the way that I did."
He continued, "A series of online posts were made that threatened me and my family. It really hurt me that even my family was dragged into this. In spite of this, I kept quiet and only replied once hoping the issue would die down."
Janno said that he also extended his apologies to the team behind Happy Time. game show. He also confirmed that he and Kitkat were dismissed from the show.
"I have apologized to my co-host and the management of the show. I have also publicly apologized. We have both been asked to leave the show."
READ: Kitkat, nagsalita na sa issue nila ni Janno Gibbs: 'Maraming nakakita, nakapanuod at alam ang totoong nangyari'
He also shared his learning from what happened.
"My personal learning is to not react so publicly in situations like this whether on air or online. I have also learned to treat my co-workers with even more sensitivity," he stated.