Jake Cuenca did a proposal prank on girlfriend Kylie Verzosa.
In the video that Jake posted on his Instagram page on Thursday, February, 25, Kylie can be seen waiting for Jake at a dinner table set up in a garden.
Jake then can be heard saying, "So they prepared this because just wanted to ask you one thing so here it goes... kumain ka na ba?"
The prank video received various reactions from netizens including from their celebrity friends.
"Bwiset! Naka-antabay ako eh!" Angel Locsin commented.
"Shucks!!! Kala ko!!!" Bianca Manalo.
While some netizens took it as a joke, others were not amused by what Jake did.
One particular netizen said, "For most ladies, that was a bad joke. Don't do that again please!"
The said comment prompted a reaction from Jake. The actor replied, "Yes but we are not like most. We get each other and we get the timing of things."
He added, "When the time is right and the timing is [right] I will not hesitate to ask."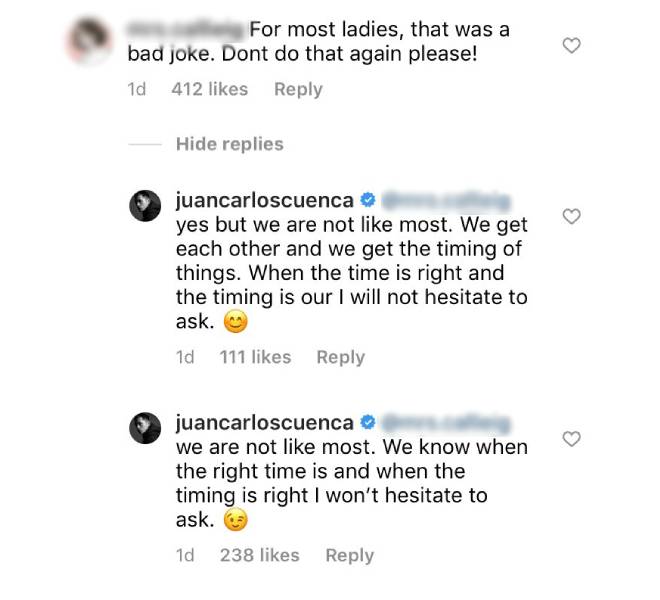 The video has already amassed more than 300K views as of this writing.
Jake and Kylie confirmed it in an interview in Tonight with Boy Abunda in September 2019.
LOOK: Jake Cuenca, Kylie Verzosa reunite after two months
When asked if they already have talked about marriage, Jake said in the interview, "We're taking it a day at a time. But for me, for the first time in my life, I can see it on the horizon."
He added, "Now with Kylie and with where I am in my life, I can definitely see it on the horizon."