"Try kindness."
Singer Leila Alcasid made this statement on Thursday, February 18, as she reacted to malicious comments on her photos with her boyfriend, indie artist Curtismith.
"Only saying this once: stop commenting on my pics w/ my BF saying 'Ang bata pa'/other nosy comments. I'm turning 24 this year man!!!! Damn," wrote Leila on her Instagram Story.
In a separate post, Leila posted a screenshot of a comment on one of her Instagram posts showing her with her boyfriend. It read: " Nakakapanghinayang bata pa pero laspag na ng jowa. Tsk."
Reacting to the comment, she said: "I don't want to mind comments but this is so rude. I'm in a happy, loving relationship with a very respectful person and would prefer we not be referred to this way. Thank you."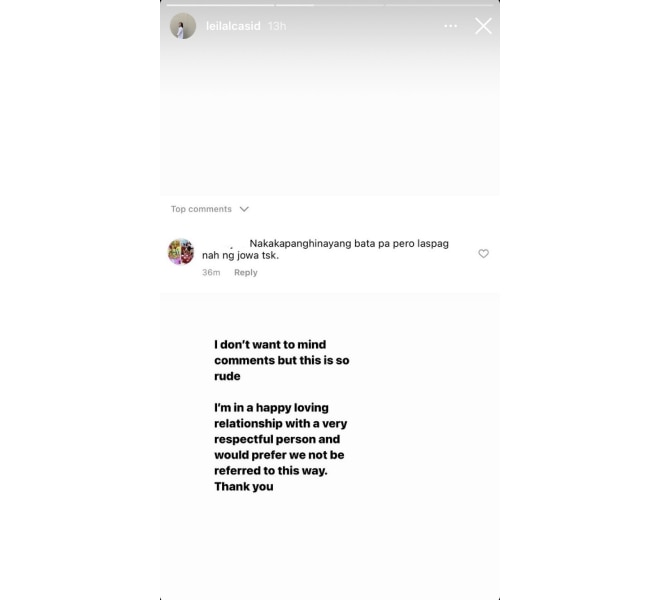 Leila ended by expressing appreciation to those who have been supportive of her relationship with her boyfriend.
"Love to everyone giving support in my DMs and also love to the lurky haters. Hehe. Being a neg is tiring! Try kindness! Good night!" she said.
Leila is the daughter of singer-songwriter Ogie Alcasid.
She and Curtismith, whose real name is Mito Fabie, have been dating for more than two years.
In a previous interview with PUSH, Leila said she met her boyfriend "through other people" in the music industry.
"I met him after he already joined Careless music," she said, referring to Curtismith's record label, which is owned by James Reid.
READ: EXCLUSIVE: Leila Alcasid confirms she is dating singer Curtismith
According to Leila, Curtismith is the first Filipino guy she has dated.
"It's been fun. He's a really nice guy," she said.