Andrea Brillantes and Seth Fedelin headline ABS-CBN and streaming site iQiyi's first joint project, Saying Goodbye. The series premieres on iQiyi on December 4, Saturday, and will run for eight episodes.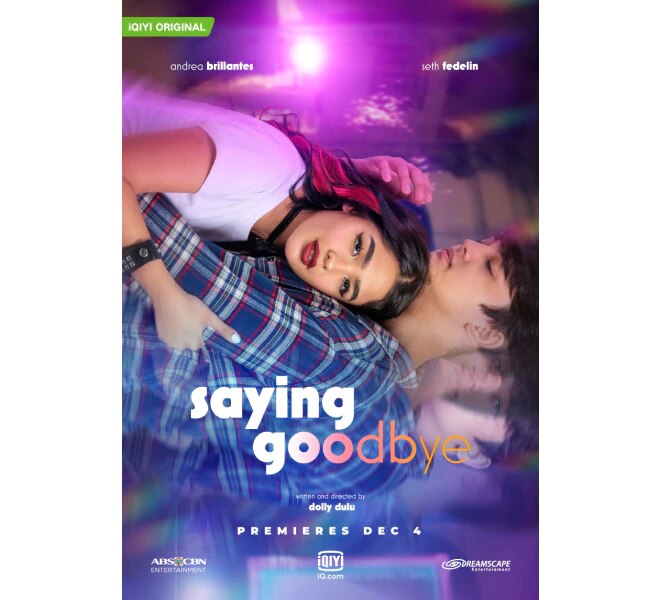 WARNING: The following contains spoilers from the first episode, The Cute Encounter.
The story
January 2007. The story starts off on Yeng Constantino's "Time In" and two very different people fighting over the last copy of the singer's album in a store. This is how Elise De Jesus (Andrea) and Ricky Santos (Seth) first butt heads. It's not long before they are trading insults with Elise calling Ricky "Bugok" and Ricky calling her "Bansot". Elise wins this round by pretending that Ricky bullied her. Their interaction is funny, natural, and entertaining.
June 2014. Ricky is now 22 and an aspiring pastry chef in Pampanga. We learn that he now has a best friend, the same Elise whom he fought with seven years ago.
A lot has changed in Elise who has discarded her punk rocker girl image to become a serious medical student.
One thing remains the same though: they still call each other Bansot and Bugok though in a more affectionate manner.
Turns out they had a few more encounters years ago. In March 2007, they again faced off over Yeng merchandise at a tiangge. Ricky wins this time around and walks off with his precious t-shirt.
READ: Andrea Brillantes shares why Seth Fedelin is 'nakaka-proud' in "Saying Goodbye"
Three months later, they meet again in a race to get the last Yeng posters. Much to their dismay, they both lose this time around. Instead of arguing again, they decide to form a bond over their mutual love of Yeng and come up with the Pampanga chapter of the singer's fan club.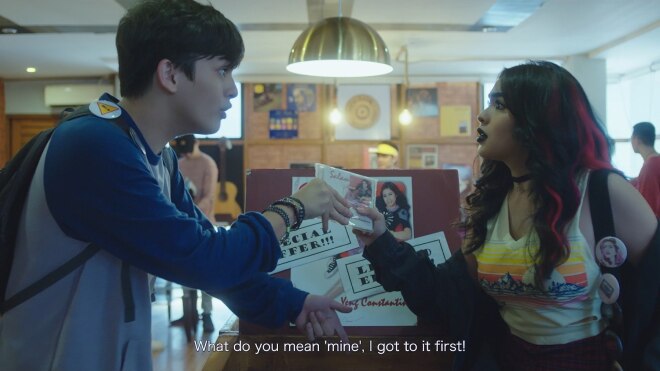 It is only at the first meeting of the fan club that Elise discovers Ricky's secret when he unexpectedly collapses. After taking him to the hospital, she learns from Ricky's mom (Sunshine Dizon) that he has Rheumatic Heart Disease (RHD) which he has learned to live with it seems.
Surprised, she later talks to Ricky about his condition. With his positive demeanor, Ricky brushes off the seriousness of his disease, preferring to live by the motto "every day is a blessing."
From there, one can surmise that knowing what Ricky has changes Elise. She is no longer the punk rocker chick. She also changes her course from Architecture to Medicine. Though not stated outright, it could be seen as her effort to help Ricky whose life suddenly seems very fragile to her.
Jumping to the present time of the story, Ricky and his parents hear a grim prognosis from his doctor. His heart is no longer as responsive to treatment and he needs a transplant preferably done abroad to save his life.
Ricky puts on a happy face despite what he learns, an indication of his caring nature of not wanting his loved ones to be sad. He doesn't make a decision right away, preferring to put his parents' minds at ease.
The episode ends as Ricky wakes up early to catch the sunrise by himself. He smiles as the sky begins to light up, the gesture not entirely full of cheer as his thoughts seem to be on what lies ahead.
"He's dying but he's surviving."
READ: Seth Fedelin reveals why he is excited for his role in 'Saying Goodbye': 'Pinaka-gigil ako na maipakita ko sa lahat'
On 'Saying Goodbye'
Judging from the first episode, Saying Goodbye is a promising series, starting off with humor and kilig and taking a surprising dramatic turn.
While the story frequently jumping timelines from past to present and back again to explain certain plot points, the transitions are smooth and not jarring. It also helps keep the story at a good pace.
Andrea and Seth are perfectly cast as Elise and Ricky, their chemistry lending a comfortable air to the interactions of their characters.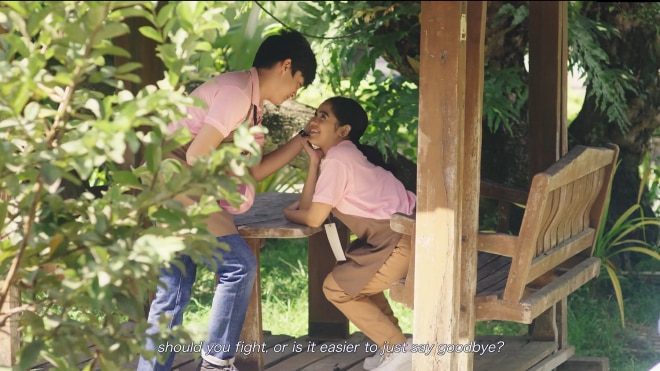 Seth, who has said in a previous that he feels pressured after initially accepting the role, plays Ricky with seeming ease. There are subtle hints about Ricky's condition early on which Seth displays well without overacting the situation.
With the episode focused on Elise and Ricky, there wasn't much room for the other characters to make their presence truly felt yet, something that should be worked out over the course of the series.
There were also a some questions that were raised that hopefully the succeeding episodes will answer, like the change in Elise's family.
Saying Goodbye is something fans should put on their "to watch" list, with its engaging cast and storyline. Viewers can look forward to how the story of Bugok and Bansot will play out and see if they have a happy ending.
Written and directed by The Boy Foretold By The Stars director Dolly Dulu, Saying Goodbye stars Andrea Brillantes, Seth Fedelin, Sunshine Dizon, Dominic Ochoa, Valerie Concepcion, Polo Ravales, Bernard Palanca, Andi Abaya, Kobie Brown, and Yeng Constantino. Premieres on iQiyi on December 4, Saturday, at 8 pm, with new episodes uploaded every Saturday.