Celebrity siblings Kobe and Andre Paras took to social media to celebrate the birthday of their mother, actress Jackie Forster, from whom they were once estranged.
Jackie turned 43 on Tuesday, November 23. In an Instagram Stories update, Andre shared photos of himself with his mother, including a throwback photo back when he was still a child.
"Happy birthday Mama @jackie_forster," he captioned the photos. "Ahhhhh love you! You're so lucky to have a good looking son."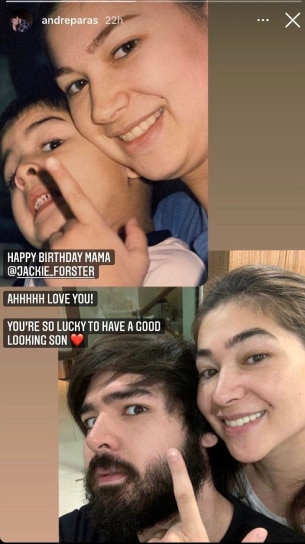 Kobe, for his part, also shared throwback and recent photos of himself with his mom, as he greeted her a happy birthday.
"Happy birthday, MAMA! Enjoy your special day today! I love you & I miss you mama," he said.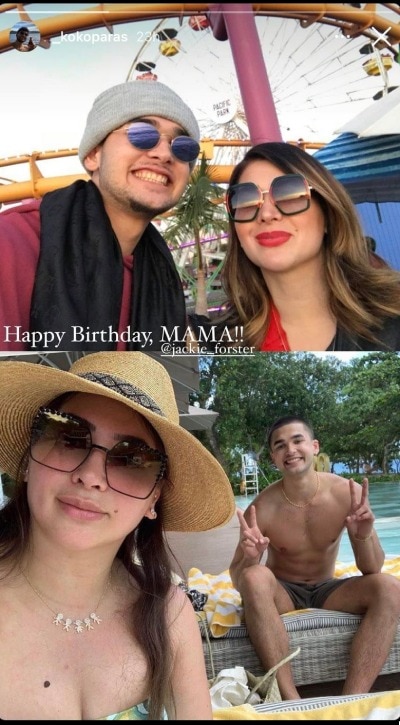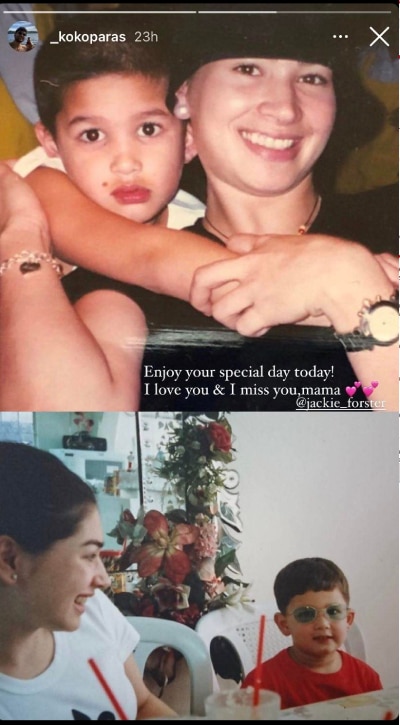 Andre and Kobe are Jackie's children with her former husband, basketball legend Benjie Paras. The former couple got married in 1994, but parted ways in 2001. Their marriage was annulled in 2003, with full custody of their kids being granted to Benjie
In 2018, Jackie reconnected with her sons after not seeing them for more than a decade.
In a previous interview, Jackie said that being reunited with Andre and Kobe felt like she "just gave birth again."
"It's like that feeling again, seeing your kids for the first time," she said. "We don't wanna talk about the past, especially the kids. Everything needs to be positive from this point on because if you keep on going backward, it will just open more things."
She also said she couldn't be happier that "everything turned out well."
"Everything is turning out the way it was supposed to. In God's time, everything really turned out well," she said.
Aside from her children with Benjie, Jackie has three other kids with her current husband, Dutch businessman Michel Franken — Jared, Caleigh, and Yohan.
READ: Benjie Paras supports his children and Jackie Forster's reconciliation
Meanwhile, in an Instagram post, Jackie expressed her gratitude as she turned 43.
"Grateful for 43 years of life. So thankful for all that I am and all that I have been so very blessed with! Specially for the amazing supportive people I have in my life. I am exhausted atm with yet another full plate, but I'm focused on what lies ahead," she said.
"I know God knows best and He is always in control Amen mamas!?? We need to keep reminding ourselves that we are #TooBlessedtobeStressed. And it's okay to have boundaries. Boundaries are important for your mental health and for those who need to learn HOW to respect you and understand your limits," she added.
She also shared her birthday wish, which is for all mothers needing strength and courage to "keep going, receive it supernaturally, to be able to surpass all that they are going through and to have provisions come to them for their needs at this time."
"I know what this feels like God is good! Remember God is faithful to those who do no harm to others, instead uplift," she said.