Kris Aquino shared that her upcoming wedding to Mel Sarmiento will be a simple one.
On her Instagram page, a fan expressed her elation about the said wedding saying, "I super love Ms. Kris but now Kris (heart symbol) Mel na. God bless you both. Anticipating your grandest wedding entrance Ms. Kris. Excited much."
Kris then replied and clarified that her wedding will not be similar to what the fan had in mind.
"I don't mean to be a spoiler nor disappoint you but our wedding is going to be tiny and super private," Kris shared.
The television host added that there will be no entourage and no wedding planner as well. "Totally not what you're expecting," she remarked.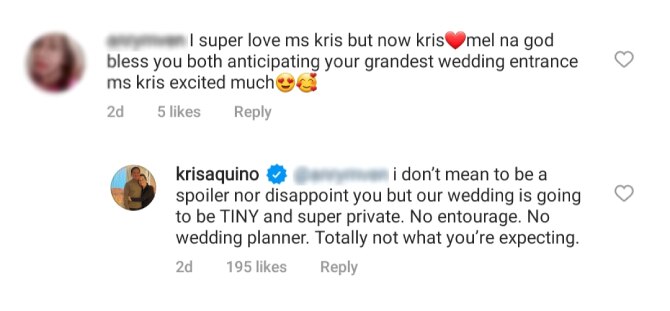 It was on October 24 when Kris announced her engagement to Mel via social media post.
READ: Celebrities react to Kris Aquino's engagement
"To my best friend and the man I said yes to spending the rest of my life with, thank you for—as Bimb said—loving me for me, with no agenda, and for being just an overall good and patient man. It's unreal how much more calm and peaceful I feel now that you're here.... We agreed, what's personal shall remain private so hanggang dito lang ang puwede kong ma-share. Except I guess to say as much as I am proud to be an Aquino, looking forward na kong maging Sarmiento," Kris posted on her Instagram page upon her engagement to Mel.
On October 27, Kris's son Bimby expressed his approval of the said engagement as seen in an Instagram video posted by the host.
In the said video, Kris asked her son why it was easy for him to approve of her engagement to Mel. Bimby replied, "It's because he loves you, no agenda at all. And you can really tell that he wants to take care of you, me and Kuya. Basically, I can tell whenever he looks at you, his eyes twinkle-twinkle. You can feel he genuinely loves you, mama."