Aside from being likened to Korean superstar Gong Yoo, it looks like local actor and director David Chua has nailed cosplaying one of Hollywood's most iconic onscreen villains as well. For his Halloween pictorial this year, the model-turned-actor became a dead ringer for superhero Batman's arch nemesis Joker which was played with critical acclaim by Hollywood stars the late Heath Ledger and Joaquin Phoenix respectively.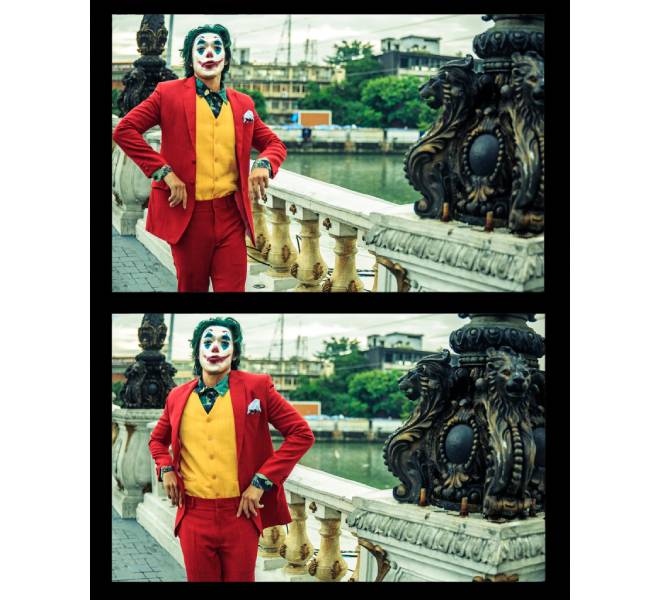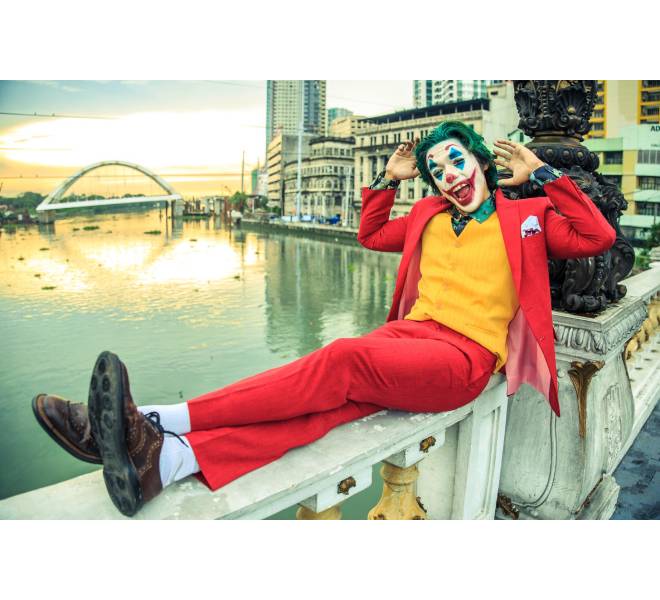 The 32-year-old ALV Talent Circuit artist shared why he chose that particular character this year.
"The Joker has always fascinated me. He's a good soul, a victim—not really the bad guy. He's like a lunatic, destructive clown with no filters on the outside, but still a child deep inside. Ledger's interpretation isn't as multi-dimensional, probably because of the script. But for telling the Joker's story as a human-being-gone-wrong, it's Joaquin Phoenix 100%," he said.
READ: David Chua joins new batch of Regal babies: 'It's a dream come true!'
Choosing his hometown as the backdrop for the pictorial, David collaborated with celebrity photographer Doc Marlon Pecjo to successfully pull off recreating some of his favorite scenes from the DC Comics movies and giving some of his favorite parts of Manila a Gotham City-like vibe. Among the locations they chose included Intramuros (for its Jose Rizal references), Jones Bridge (for its European vibe), the baywalk area (for its picturesque sunset), and Chinatown, for its food and culture.
"I chose mainly the areas with the old, elegant architecture. I'm a true-blue batang Maynila. I think the city is beautiful despite its imperfections. It has so many stories to tell. Here, you can still find the restaurant where Andres Bonifacio and his wife went to eat in. It's still open. Even the history of Escolta, in itself reminds us of who we were and who we can again be. There is a parallelism between Manila and The Joker. It's either you survive or you don't," he explained.
READ: EXCLUSIVE: David Chua denies quitting acting for directing: 'My first love is acting'
Proud of how far his city has come throughout the years, David said he is not like other celebrities who joined public office. Instead, the Dark Carnival Productions CEO has been doing his share in contributing to the welfare of others, particularly during the lingering pandemic by organizing food relief operations in some slum areas.
"I feel like I can do a lot more on my own without running for public office. If given a chance, I'd like to support the development of cultural and artists' hubs in the city. Before the COVID crisis, Manila was already transforming into a cultural hub with coffee shops and art expos left and right," he said.
READ: David Chua denies being a Gong Yoo copycat: 'It's my dream to play a Pinoy adaptation of 'Goblin''
Even though he has been keeping busy with directorial work for the private sector as well as projects slated for next year, David looks forward to getting back into acting and recently auditioned for a major role in a TV reboot of a popular and long-running movie series.