Last year, when the Philippine Educational Theater Association (PETA) first staged the HIV awareness-themed play Under My Skin, the stage run was cut short because of the lockdown last March 2020. Starting next month, PETA revamps the play from stage to video, in partnership with HIV advocacy organizations LoveYourself PH and The Red Whistle. During PETA's recent virtual press conference for Under My Skin, actress Cherry Pie Picache admitted she has always been wanting to work in theater.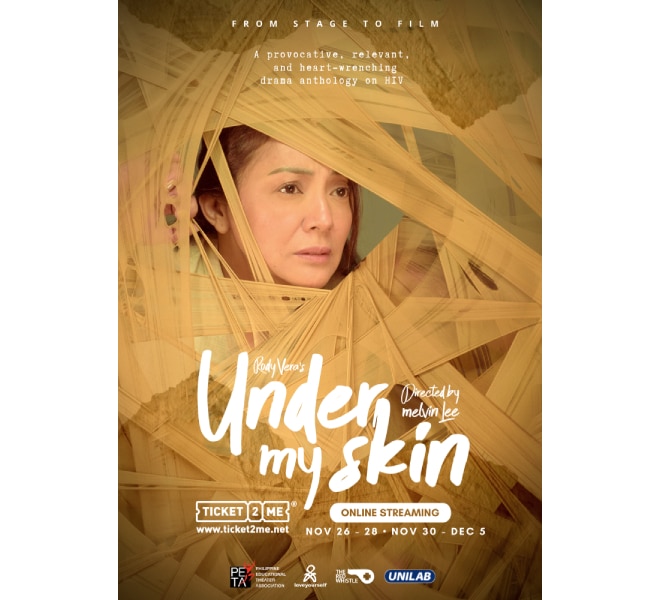 READ: Cherry Pie Picache reveals she had COVID-19
"I was more than happy to be invited and included in the project. I've been wanting to do a play with PETA for the longest time. So I was excited to be a part of it. When we are asked to do it online, dun lang ako medyo nahirapan kasi for 10 months we were just at home. Kumbaga wala ng ensayo yung craft kahit din sa pag-shu-shoot at ibang iba talaga. It all Zoom meetings, it's all Zoom guestings.
"You know doing a play, as an actor ang laki laki ng pagkakaiba sa entablado at saka sa TV. Kasi sa TV pag shinoot mo, you memorize and when you do a play you have to have the mastery of the character, the lines, the blockings, how you relate to other actors. Dun lang nahirapan yung pagbabalik, yung pagkaroon ng ngalay. Pero yun nga, it was a wonderful experience the first time that I did it when we shot it online."
READ: PETA's 'Rak of Aegis' stages virtual performances starting July 31
Cherry Pie plays a doctor named Gemma Almonte studying the spread of the HIV virus. The kapamilya actress shared her thoughts on being part of the advocacy project and playing a role inspired by a real life doctor.
"It is my honor and my pleasure to be involved in this advocacy play. I can be only be ecstatic and very happy. Everybody's going through a very difficult time now especially with the live events and I can only be so happy and very grateful that they decided to film it and stream it online.
"As much as it was very unfortunate that we were cut short, now everybody has the opportunity to see it. I hope everyone will have the chance to watch finally Under My Skin, an advocacy play on HIV. We've been hit by different viruses but I think HIV is the thing that we should not stop dealing with. Only with compassion and with puso to remove the stigma and to inform everyone and to educate everyone that it is not a death sentence. I am so happy to be a part of this," she said.
READ: PETA streams the OFW musical 'Care Divas' online starting November 22
Under My Skin is written by Rody Vera and directed by Melvin Lee. The online streaming cast features Cherry Pie Picache, Eko Baquial, Gio Gahol, Mike Liwag, Jarred Jaicten, Kitsi Pagaspas, Dylan Ray Talon, Dudz Teraña, She Maala, Bene Manaois, Erold Enriquez, Jason Barcial, Joseph Madriaga, Rach Gimpes, Reggie Ondevilla, Roy Dahildahil, Gerard Dy, and Ekis Gimenez.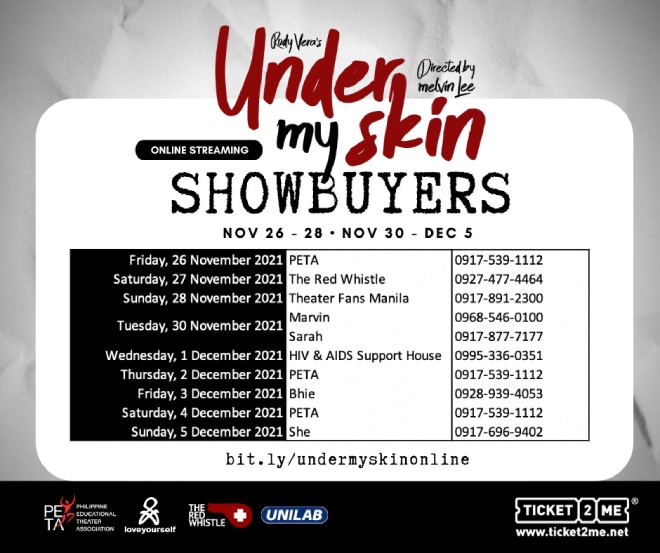 Under My Skin Online runs on November 26 to 28, and November 30 to December 5, 2021. Tickets are available at Php 180 for Livestream, and Php 250 for Video on Demand tickets via www.ticket2me.net, bit.ly/undermyskinonline, or through any of the Under My Skin Online show buyers. For bulk sales, and more sales information, contact Mitch Go at 0917-5391112.