After becoming a lieutenant commander of the Philippine Coast Guard Auxiliary in 2019, former matinee idol Diether Ocampo has added another feather in his cap.
The 47-year-old actor recently worked with JE Mondejar Book Publishing House for the English-Waray storybook, Maya and her Loyal Friends. In a Facebook post, the series' Art Director and Publishing Consultant Aaron JP Almadro said Diether did the English-Filipino translations for the book, which was written by Dr. Bernadette Mondejar-Schlueter and illustrated by Ed Rompal.
"Now, our Manila/Luzon friends can enjoy Maya and her Loyal Friends (in Filipino, 'Maya at ang Matapat Niyang Mga Kaibigan')" said Almadro.
In his post, Almadro, who previously worked at ABS-CBN Publishing, added: "Trivia: Worked with Diether a looong time ago when I was still with ABS-CBN Publishing. Not as a model or subject, but as photographer for one of our fashion editorials in Metro hiM. Yes, he likes to dabble in different stuff. Apparently, he's into writing now."
READ: Diether Ocampo, may payo sa mga nais sumunod sa kanyang yapak sa coast guard
According to Almadro, Diether got involved in the project because of his friendship with Minerva Mondejar-Steiner, the sister of the book series author Dr. Bernadette. Diether will be translating all the books in the series. The publisher will also be donating copies of the books to Diether's selected public elementary schools in Cavite and Bicol.
Released in December 2020, Maya and her Loyal Friends is an inspiring story that demonstrates core Filipino values of loyalty and friendship and highlights timeless Waray games that children love.
It tells the story of a young girl who loves to play with her friends. Things suddenly change when a birthday gift arrives.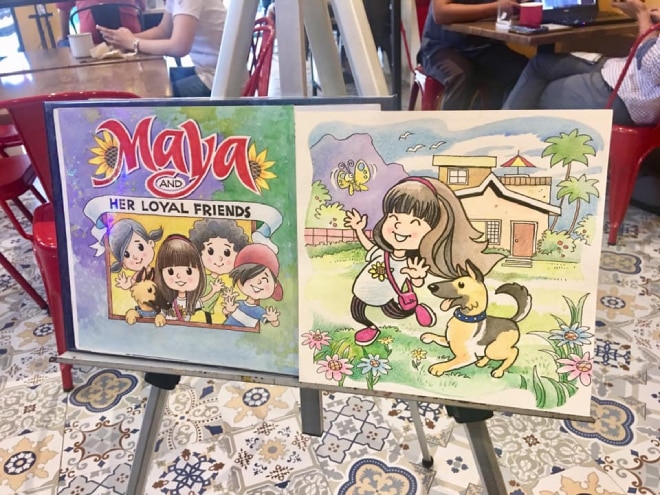 Currently, Maya and her Loyal Friends, the first part of the bilingual "Maya Series," is available in English-Waray, English-Filipino, and English-German.
A second book, Adventures of Maya: The Lost Fields of Palale, will be released this January 31.